Making Money At Home During The Pandemic with Flipping:
How to Make Extra Money Flipping Items Online
Times are tough. Some would think that's an understatement, and I wouldn't disagree. The pandemic has caused so many people to lose their jobs that it's not hard to imagine the rising rates of suicide and depression. When our basic needs cannot be met, it is incredibly difficult to act properly in the world. And right now, finding a source of income is more important than ever. 
With the "new normal" we live in, a lot of us feel lost about what to do while we're stuck at home. We are left with no choice but to seek alternative ways to make ends meet. And herein lies the crux of our situation. 
When you cannot go out, or at least your time outside is restricted, and employment rates are plummeting, we are forced to be creative with our solutions. However, there is one obvious but nonetheless effective tool: The Internet.
It has boundless potential for making money and the barrier for entry is almost zero. The one thing this blog is a proponent of, if you didn't already know, is flipping. It is, perhaps, one of the simplest things anyone can do to earn money. And with the power, reach, and influence of the Internet, it has become—in my opinion—the BEST way you can earn money at home. Let me explain.
What Is Flipping?
Flipping is reselling. But it's not the normal kind of reselling. Because you're basically buying items that are being sold at a low price—a price that is significantly lower than the overall value and condition of the item—then sell it at a much more appropriate and higher price to make a profit.
Simple right? Even a 3rd grader can apply this concept. Heck, even a 3rd grader can earn a few hundred bucks in a single week with this.
It is simple but a lot of people don't find it easy.
So how should one start with flipping?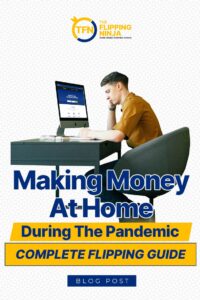 Step 1: Home Equals Gold Mine
If you haven't tried flipping before and you're a little hesitant about risking your money, you can start it for free from your home. You likely have a few things you rarely, or perhaps, no longer use. If these things provide you no value and you'd rather get rid of them, do it while getting paid—sell them.
It's a double win for you. You get to clear up space AND you get paid for decluttering your own house!
Let's start with your furniture. Who sits in those chairs? Is that a table under that clutter? What about that computer desk in the garage, or the dresser in the storage? Keep walking around your house or apartment and take note of everything.
Check out those video game consoles that haven't been played for years. Do you have décor or art hiding in closets? How many TVs do you really need? You can look for:
old cell phones

power tools

books

clothes

musical instruments 

unused or rarely used furniture

Anything and everything.
If you don't use it at least once a year, get rid of it; you don't need it.
The key, then, is to shift your perception to a money-making machine. I call it The Eye for the Deal.
Once you equip this perception you'll feel a shift in how you see things, suddenly values will pop up as you consider each item and that value translates to quick cash in your pocket. It's like Pokémon Go (still remember that game?) for flipping, without leaving your own home while making money in the process.
You're going to be constantly asking yourself: What is this worth? How much can I sell it for? What could I make from it?
With this, you're ready for the next step.
Step 2: Gather Your Treasures
Time to take action.
Start collecting and gathering. Pick out the items you spotted in Step 1, and put them all in a corner somewhere—it helps if they're organized. We're going to call this the "Money Corner" from now on.
But hold on a moment! Trying to pull this off with your whole house at once can be overwhelming.
Instead, it is wiser to chunk the Money Corners by each location and target different areas one by one. For example, start with the living room—this is the one place you'll be glad to declutter. Next, the bedroom. Then the basement,  the kitchen, and the rest.
Purge every cupboard, closet, nook and cranny in the house. If you haven't worn it for a year, grab it.
Sometimes it's effective to set a specific number of items you need to collect for each area. For example, you choose 10. So now your goal would be to find at least 10 things you no longer need.
Try making it as high a number as you like, that way you're forced to keep things moving and you'll make more money in the process. 
You might tell yourself, "I'm going to look for 20 things I already own; items I never use and are only taking up space; random clutter that's, subconsciously, stressing me out; and collect them all."
Step 3: Take Inventory
So now you've got all the things you're willing to sell piled into your Money Corner. It is now much easier to take inventory. 
Write every item down either on your phone, a sheet of paper, or in a Google Docs document—I highly recommend the last one so you can access your list on multiple devices, but use whatever is comfortable. 
Taking inventory is important because it'll help you see everything you've got and it's going to make selling a lot easier and quicker. 
So how should you make your list? It's all up to you, but I try to be descriptive with mine so I know what to look for when it's time to move. For example:
PS3 with 6 Games [list the games] and 2 controllers

Varnished Maple table with 4 matching chairs

Glass-Top Cube Side Table 

Brown Suede Kenneth Coles Shoes 
If it's a large or heavy item like a furniture piece, I simply write down what the item is on a sheet of paper so I know what it is, then I bring the item to the corner or keep it nearby.
Once your inventory is complete, it's time to make money.
Step 4: Start Selling
You're now ready to prepare all your items for selling. Here's what you need to do for each one:
Create a Headline/Title & Price the Item

– write down exactly what it is (if it is branded, put that up too!) and determine a selling price.

Write a Description

– make sure it's compelling and filled with features and benefits that entice the buyer to buy—I wrote a little about writing ad descriptions on two previous FOTW articles. Check them out:
           FOTW: LUCKY! Branded Sport Bike Sold For $300 in Just FIVE Days
           FOTW: Roland RD-300S Digital Piano Package + Amps + Extras
Take Money Shot Photos

– grab their attention by showing them a flattering photo of the item they're about to buy. I wrote about how to do this—and how much to take—

here

. Check it out!
You can add your headline and description into the same Word doc you had from earlier (or add them to your smartphone list). Now – once you have these 3 things for each item in your Money Corner, it's time to get them to as many eyeballs as possible.
Sell on Craigslist
Craigslist (CL) is the quickest way to start selling your item. Since you've already determined your price, written your headline and description, and took your money shot photos – all you need to do is register an account on CL and create an ad listing for each item to sell. Now just wait for the emails, calls, or texts to pour in.
BONUS TIP: For smaller items you can carry, meet buyers in public places in order to exchange cash and items. For larger pieces like furniture or appliances, buyers should come to your house to pay you and pick the item up. Make sure you have someone with you at home and only invite them over during daylight hours. Also, talk to them on the phone beforehand to make sure they seem reasonably "normal."
Sell on eBay
eBay is a powerful marketplace to post and sell your products on because you get worldwide exposure with a huge amount of traffic. I recommend sticking with smaller items (items you can easily ship) when using eBay while keeping the larger ones (furniture, etc.) local to Craigslist. You can post your item up either at a fixed price or as an auction.
BONUS TIP: When using eBay, make sure you get an estimate of what shipping would cost for each particular item, including packaging. One time I sold a tall floor globe on eBay for $50, and shipping cost $67. I ended up losing money on that sale because I underestimated the cost to ship that oddly shaped item.
Sell on Facebook MarketPlace
Facebook MarketPlace has blown up as an online selling platform. It's definitely a top choice these days when it comes to buying and selling because of its popularity and traffic. The best thing about it if you're flipping is the locality of it and the number of people who use it—not to mention the groups! 
It's quick, easy, convenient, and great for both buying and selling stuff. Think about it; most people spend so much time on Facebook anyway. With one click, you can easily get to Facebook MarketPlace. Post your item for sale on FB MarketPlace, and watch how quickly it'll sell.
BONUS TIP: If you value your privacy, you may not want to use your own personal Facebook account when posting items to MarketPlace. If so, a good alternative is to create a 2nd Facebook account that omits these details (using a nickname or abbreviation, etc), and use that strictly for MarketPlace postings. That way, your personal Facebook is completely separate from your selling account. 
Step 5: Collect Your Money & Reinvest
That's it! You've done it. You've finally sold your item. The buyer's happy they finally got that vacuum cleaner they were looking for; you're happy you got yourself some profit AND your place is less cluttered—it's a win-win!
But if you want more money, it shouldn't stop there. Once you've sold all the unnecessary items in your house, you can move on to buying cheap items from thrift stores, garage sales, or even from the sites mentioned earlier.
Start small first to gain more experience and get a feel for how the market moves. You'll get warmed up quickly, believe me. After a few more sales, I'd make a wager you've probably moved on to items with bigger profits. If so, send me an email, I'd love to read about it!
Conclusion & Proof
It may seem incredibly difficult to make money these days. But the Internet has brought forth countless opportunities that people have yet to notice. And as you have learned, flipping is incredibly simple. If you're wondering how lucrative it is, here is my proof:
Harden Furniture Custom Made Sophisticated Striped Accent Chair | Profit = $270
Roland RD-300S Digital Piano Package + Amps + Extras | Profit = $550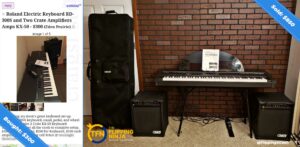 A Pair of Glass Top Cube Side Tables | Profit = $70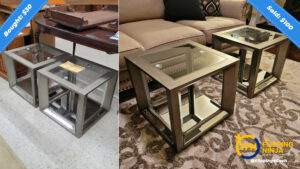 Diamondback Trace Comp 18 Inch Complete Dual Sport Bike + Accessories | Profit = $154

Catnapper Power Recline Lift Chair Recliner | Profit = $155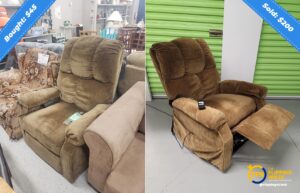 Unique Hunting Dog Table Lamp | Profit = $32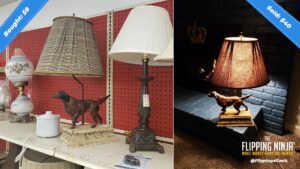 Milo Baughman Mid-Century Modern Chrome Lounge Chair + Ottoman | Profit = $225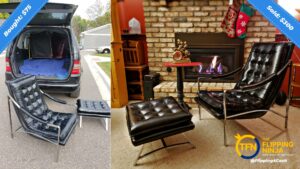 Seven 7.5-Foot Floor-To-Ceiling Mirrors | Profit = $147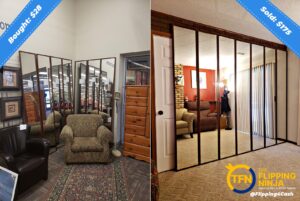 Stunning & Sturdy Mission Style Wooden TV Stand | Profit = $65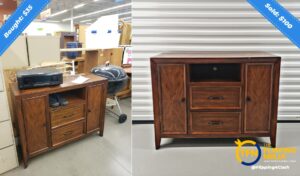 Terminator Salvation Deluxe 16-inch Harvester Figure | Profit = $143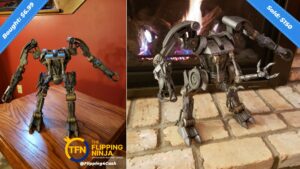 Chess Set (Board & Pieces) | Profit = $15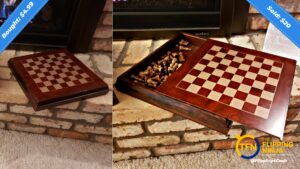 Blue Octopus Framed Wall Art Piece | Profit = $32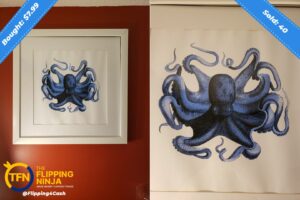 Bell & Howell Super 8 Autoload Vintage Projector | Profit = $91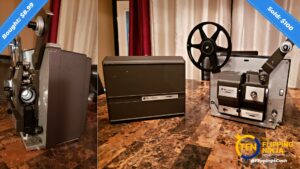 12 Dell Professional P2312H 23″ Monitors with Full HD LED Backlight | Profit = $640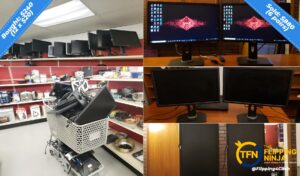 It's a long list. If that's not proof enough, I don't know what is. But it's barely scratched the surface from my whole vault of FLIPPED ITEMS of 10+ years experience in flipping. 
I urge you to go and apply the knowledge you got from this article. Again, the process is quite simple and once you start exploring the boundaries of your own knowledge you'll discover the subtle nuances of the job like learning which items to buy, where to look for items, how to sell items for maximum profit, research skills, and much, much more.
I didn't have this knowledge when I started, but if you start now you could earn much more money faster! 
AND, I have great news for you. 
I actually have an online course that will teach you these nuances (plus much more!) to cut back years of hard work to acquire this knowledge from you.
The Flipping Ninja Course's price is $197 — it's not nothing, but it's a solid investment. Why? Because you could easily earn this money back with a couple of flips (or one if you're lucky) AND you'd have the knowledge to last you a lifetime!
Think about it:
the total profits from the above flips is
$2,589!
You could earn that weekly once you've gained confidence and you've really put the work in. I've flipped over 3,000+ items throughout my career as a flipper. Imagine if you flipped a fraction of the total profits I earned. That's a LOT of money.
AND another thing! I'll be adding in more courses into the bundle in the near future so the price won't be $197 for long. If you want to get it at this low price, you better get it now before it's too late. 
But if you're still hesitant about this investment, I'll disperse all your worries because my confidence in this course is paramount, I give all my students a 120-day Money Back Guarantee to put in an honest effort. 
If it's not clicking for you, I'll refund your FULL investment so that you can re-invest it in whatever your Plan B is for a new side hustle/income stream.
I sincerely hope this article was valuable. If you liked it consider sharing this to your friends or leaving a comment. I'd love to read it!
Just remember, you're only just one flip away from freedom.