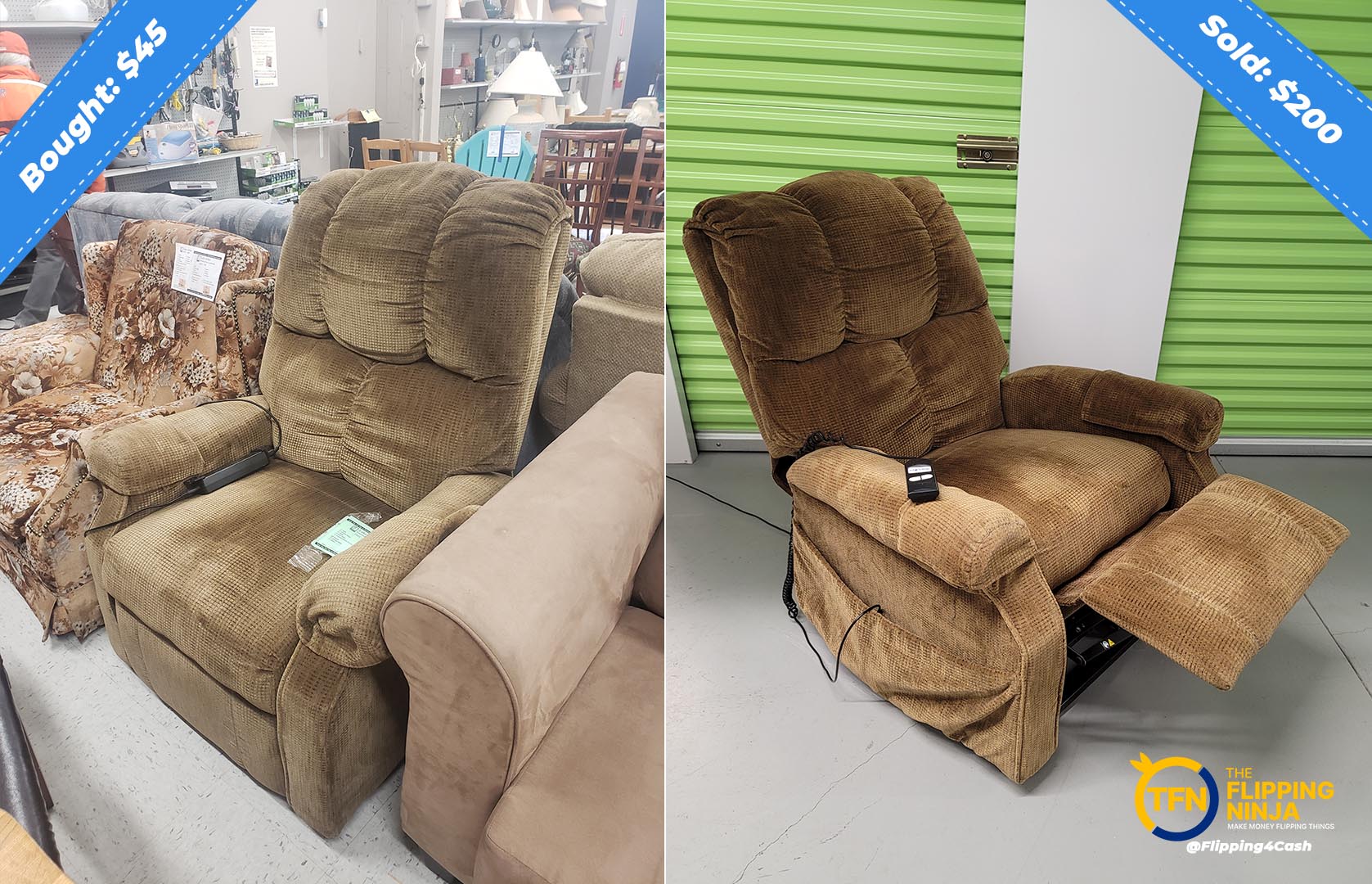 You know what, power recliners have rarely let me down.
I was ending my buying splurge at a thrift store that I frequent when I passed by the chairs section and saw this big bulky chair that had an adapter of some sort. I instantly knew it was a power recliner. I approached it and checked its price tag, when lo and behold it was only $44.99—what a steal!
Next thing you know, I was already packing all the items I purchased. Did my usual routine after I buy something: take photos, write an ad, post a listing online. Easy.
It was sold in five days for $200—a profit of $155.
The Craigslist Ad (Case Study)
I'm a big proponent for doing research on an item (a.k.a. Googling). Before I wrote my ad copy, I searched the item online for its brand, features, and current market value. I knew that customers appreciate a decently written ad. So I did my work. I've done this often enough that it took me less than fifteen minutes to find everything I needed.
Let's start our case study from the top:
The Headline
The headline I used was simple. A power recliner lift chair is basically what it says and the customers looking for it knows what they are looking for. I added the brand to piggyback on the brand's authenticity and reputation. According to my fifteen-minute research, Catnapper is a US brand that makes their chairs on home soil. So I didn't hesitate to put the brand in.

The Hook (Problem) and The Key Feature (Solution)
First sentences are crucial. Once your prospect reaches this part, they've already decided to click on your item to take a gander, so you must hook them and keep them reading. 
Another reason why research is so important is that you have to know your product before you write your ad. What you write must be relevant to what the customers want and what the product provides. 
I always ask myself these two questions when I do my research on an item:
What problem does this product solve?

Whom is this product for?
The first question gives you two pieces of information: the problem and the solution. And the second question gives you the nature of your customer. 
Once I knew these things I already had an idea on how to write my ad. My customers were senior citizens or people who had disabilities. And the problem I addressed in my hook was their need to get up on their own. 

After the hook, I immediately provided the solution. I even added on top of that the comfort they will feel once they lounge on it and it's color. 

Features and Benefits
This section of the ad basically lists the rest of the notable features of the product. One thing to note is how I made sure to explain what the feature does in simple terms instead of using jargon terms.

Condition and Disclaimer
When you're selling a used product, it's always wise to add its condition and put a disclaimer. It'll come off as more authentic and trustworthy.
Also, a huge tip, if you're selling upholstered chairs, is to add that it came from a pet-free and smoke-free environment. But only add it if it's true!

Price Comparison
Adding a price comparison isn't necessary, but it can help to convince your customers that what they're getting is a better price for the value they'll get. I made sure to do a little searching and see what the lowest price range was for the same item that was sold brand new. If you are going to put a price comparison, make sure it is accurate.

Call To Action
I do this on all of my ads. If as they read your ad and the tone it gave off was friendly, your prospects will be more likely to take action. Depending on the item you're selling, adjust your tone. But keeping a lighthearted tone on my ads has always worked for my customers.

Conclusion
Throughout my experience of flipping power recliner and lift chairs, and I've sold many, it has rarely disappointed me. This particular flip was a success. From the price, the functionality, and the ease of its selling, I'm glad I took the risk of flipping it. It took me less than 45 minutes of work.
And it was off my hands in just 5 days.
Bought it for $44.99
Sold for $200
With a profit of $155 in about 45 minutes of work, I'd say it was time well spent.
Just as an FYI — I normally sell these lift chairs for $500-$600, depending on the brand (Golden Technologies, for example, is a high priced brand). I just wanted this chair to sell FAST though.
Overall Rating:
Profit: ⭐⭐⭐⭐⭐

Easy $155.
Transport:⭐⭐⭐⭐⭐

I still had room in my SUV when I was packing so there were definitely no problems transport-wise.
Time Spent: ⭐⭐⭐⭐⭐

45 minutes earning  $155 is definitely worth 5 stars.
OVERALL: 5/5
Overall I'd give it a 5/5 considering these factors:
Time spent: 45 minutes
Transport: No problems with transport whatsoever 
Profit: I wish there are more of these recliner chairs—it would bring in such a good fortune!