Go big or go home.
We always hear that.
And I agree, you should always go big.
But ain't nothin' wrong with going small either, because in the flipping business, small things will add up.
With that being said, this post is about going BIG!
I actually visited this Thrift Store a few days prior and saw these items, but hadn't bothered to get them.
This time when I walked in again, all furniture was 25% off, so I knew I had to go big…
I walked into the thrift store and came across these: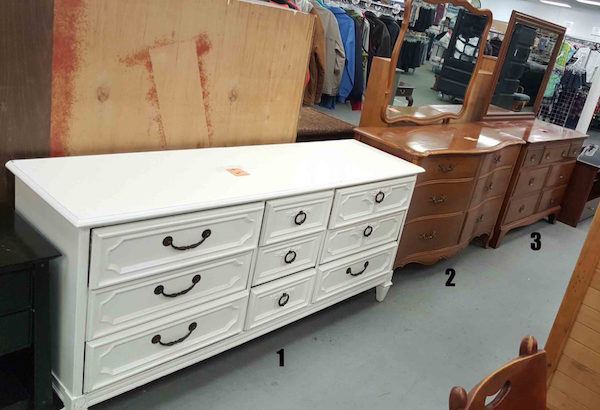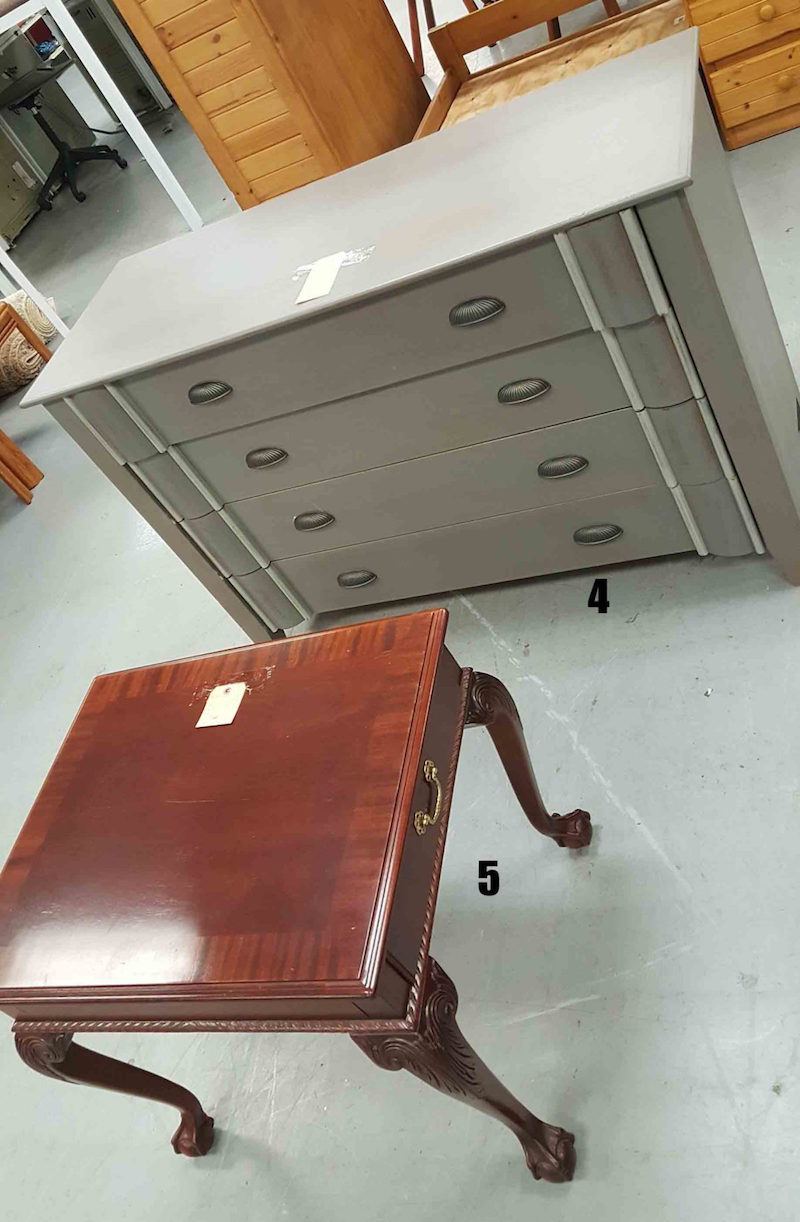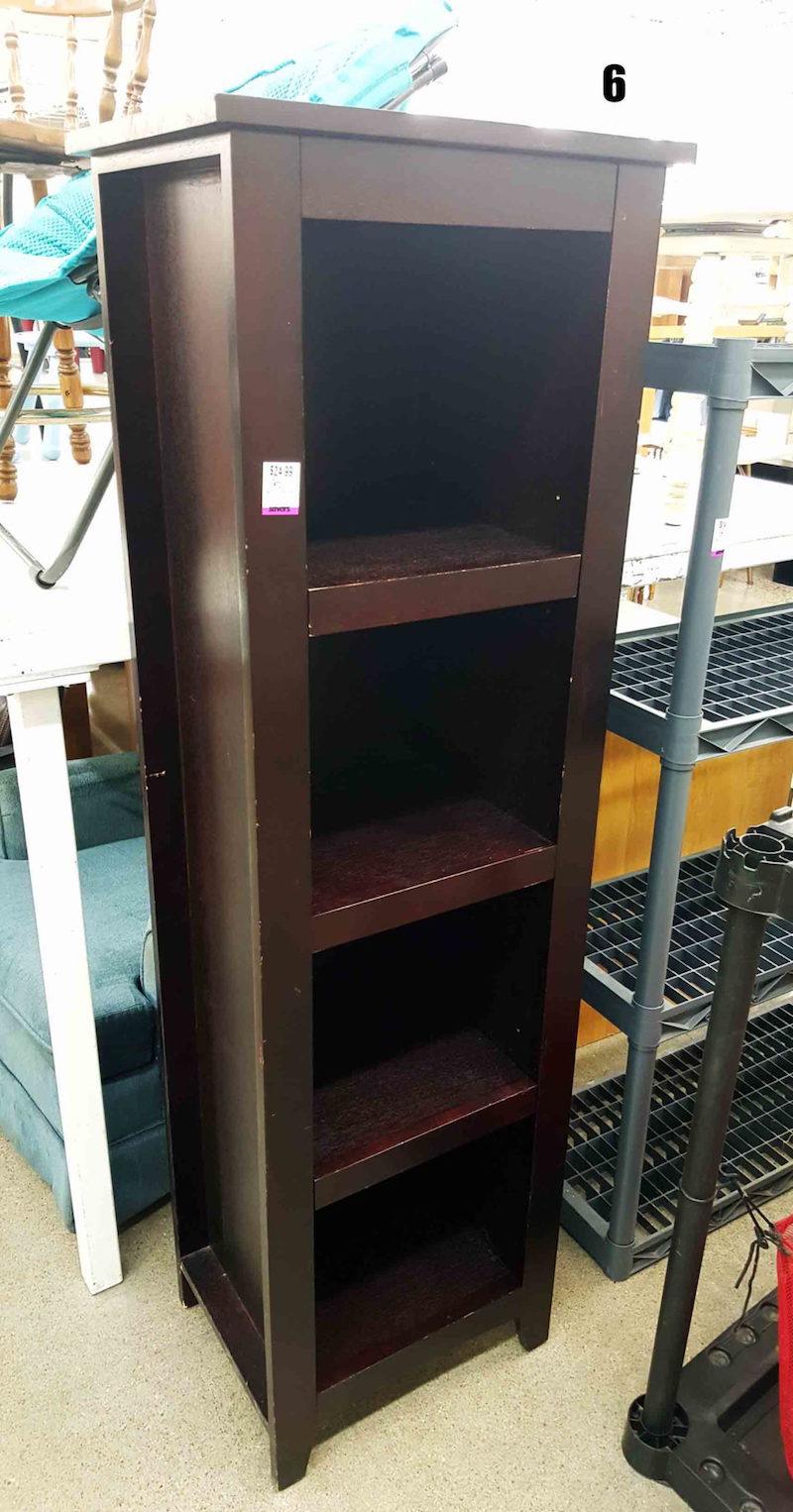 Let's go over what we got.
White dresser
Brown dresser with mirror
Another brown dresser with mirror
Grey dresser
Ethan Allen Side Table
Espresso Color Bookshelf
4 dressers, 1 side table, and 1 bookshelf (thank God I have a pickup truck; in my opinion you MUST invest in one to have on hand — it will pay for itself quickly)
[blank_space height='1em']
Case Study 1:
Dressers sell. Period.
This white painted dresser I got for only $83 with the 25% off discount.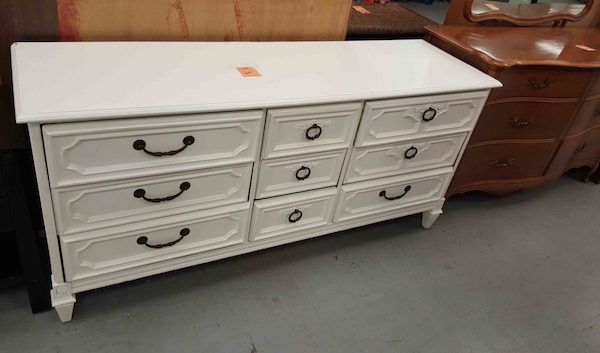 Here is my ad I posted up: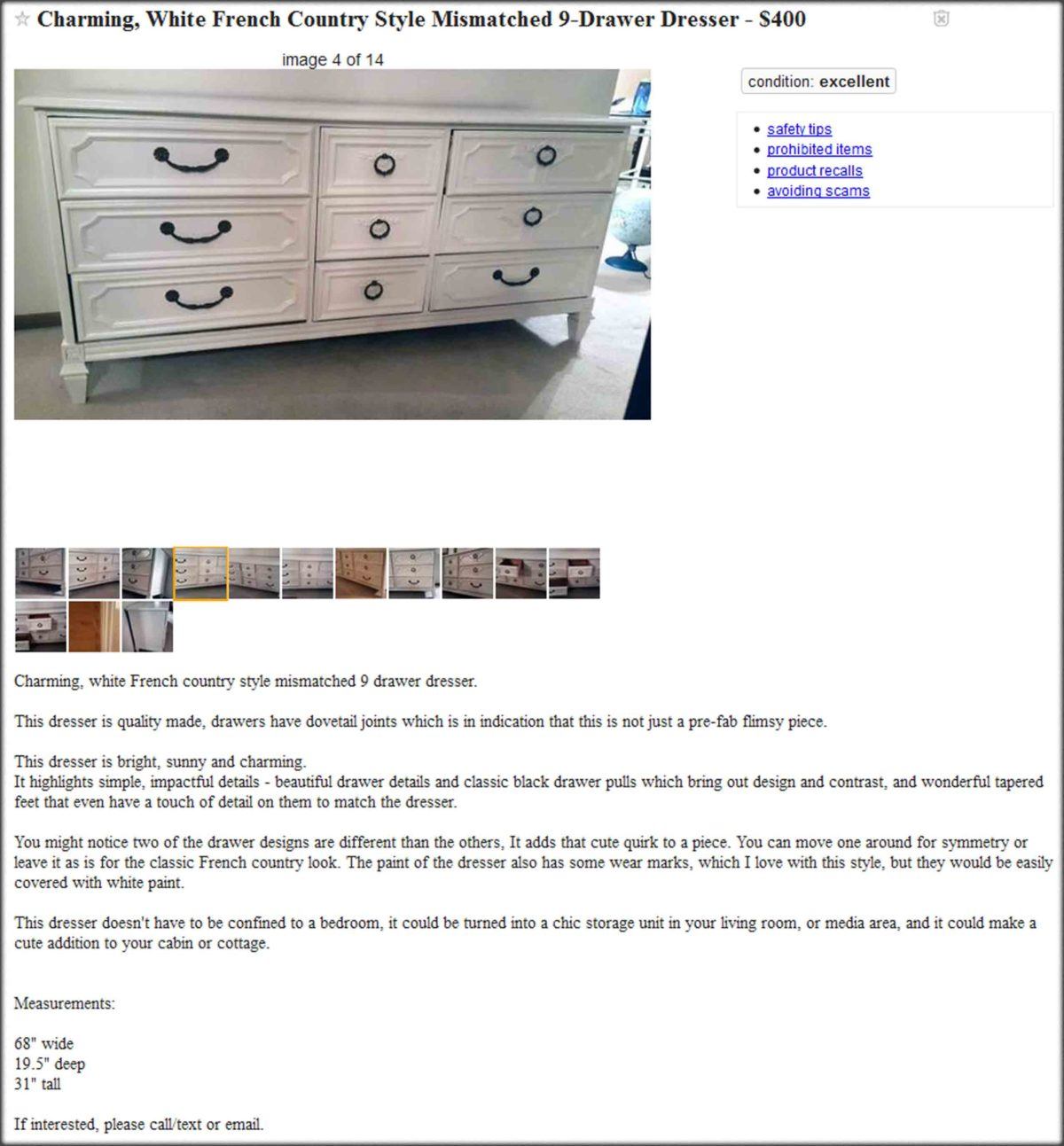 It sold for 7 days later for $300.
Profit: $217
[blank_space height='1em']
Case Study 2:
I never really was a dresser kinda guy… But after selling so many and knowing that they sell WELL, I kinda had to become one.
This beautiful dresser and mirror set was purchased for $98.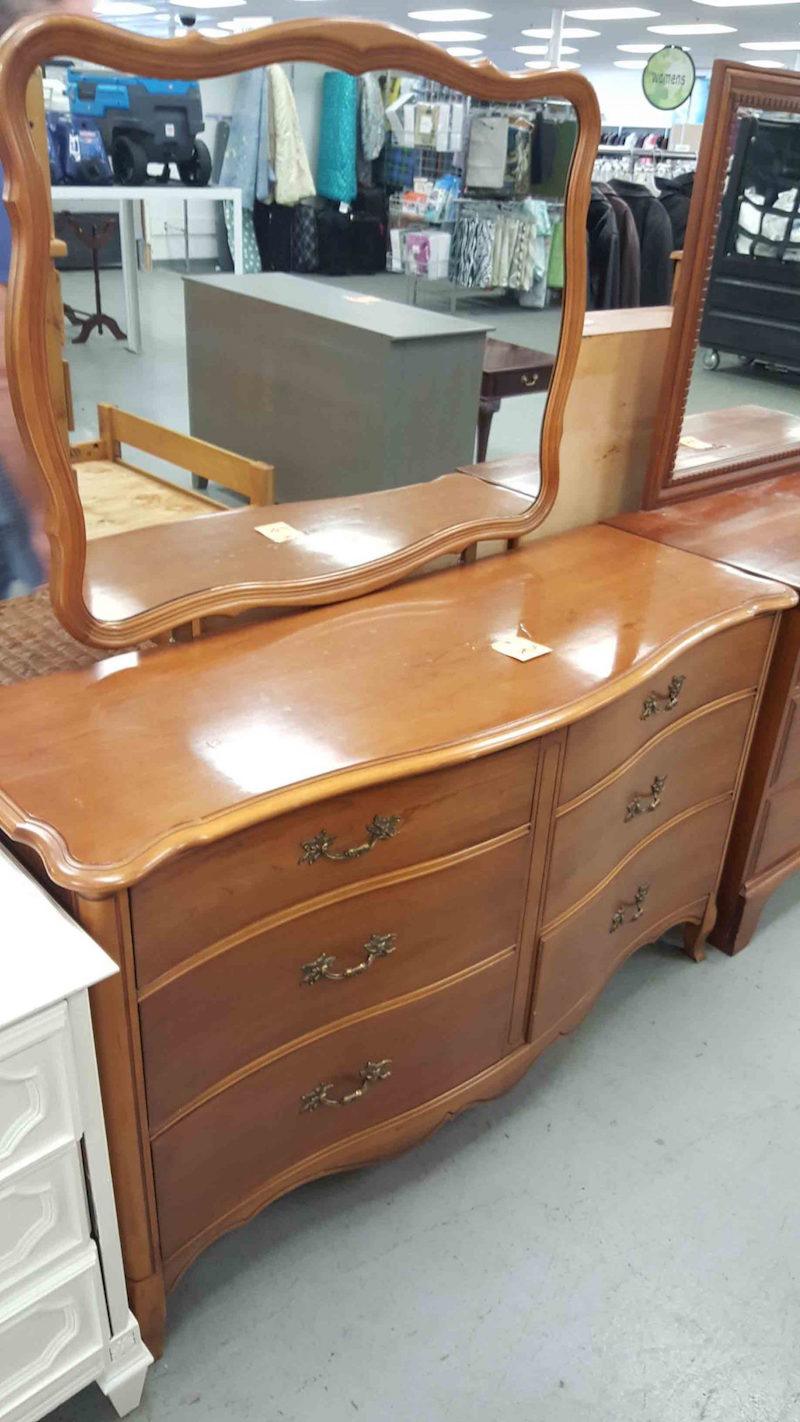 Here is my ad I posted up: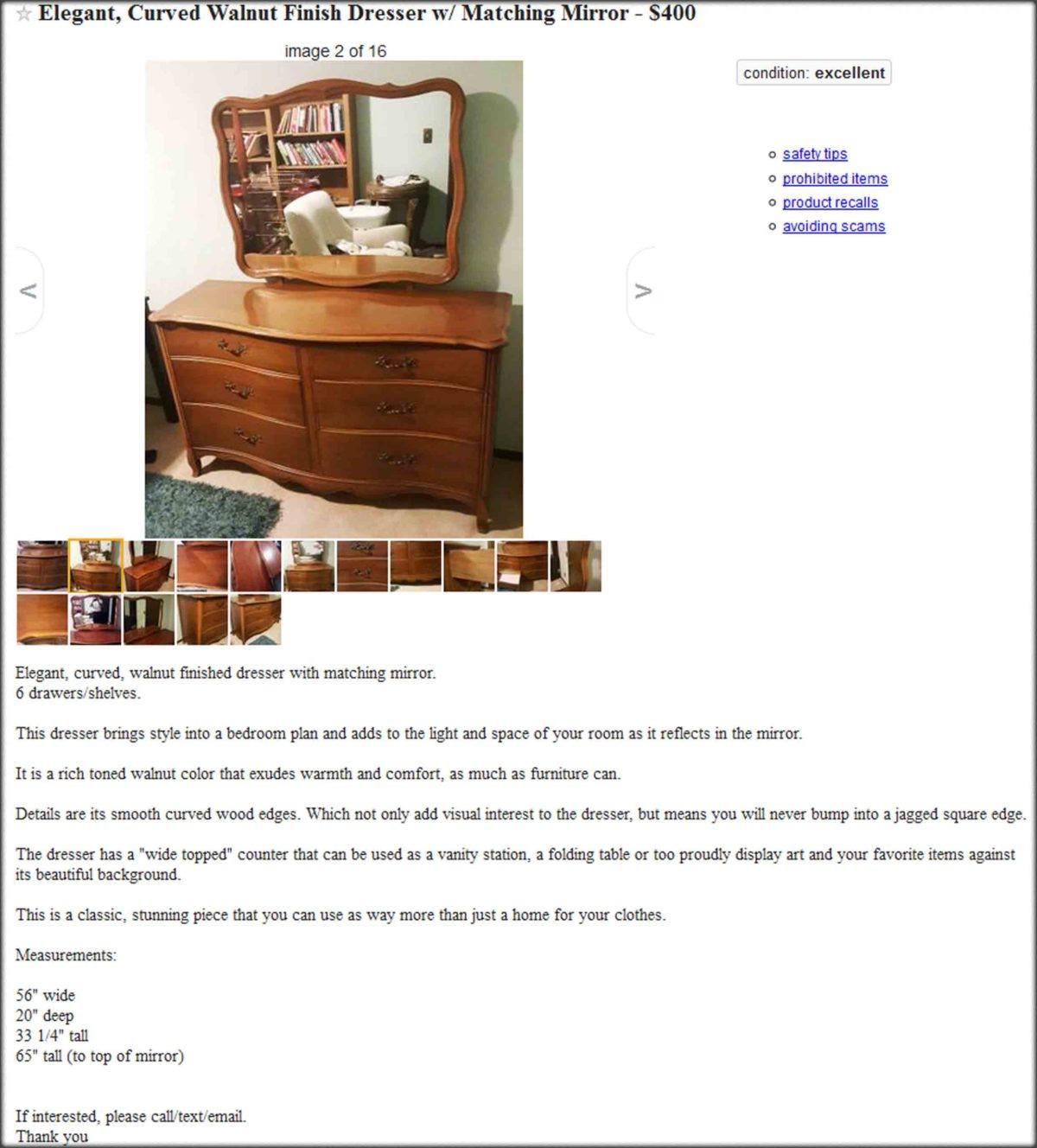 This sold 8 days later for $325
Profit: $227
[blank_space height='1em']
Case Study 3:
This dresser was 100% solid cherrywood (I knew because there was a sticker on the back and it was also stamped inside one of the drawers)
I bought this for $90.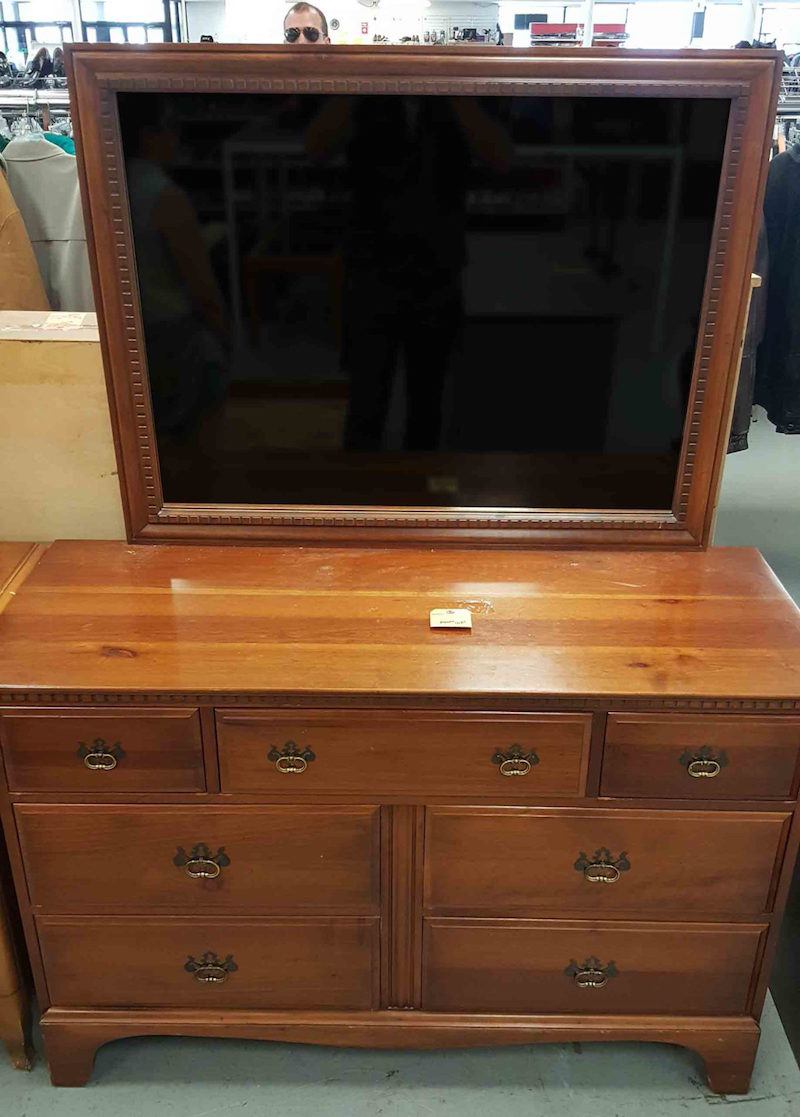 Here is my ad: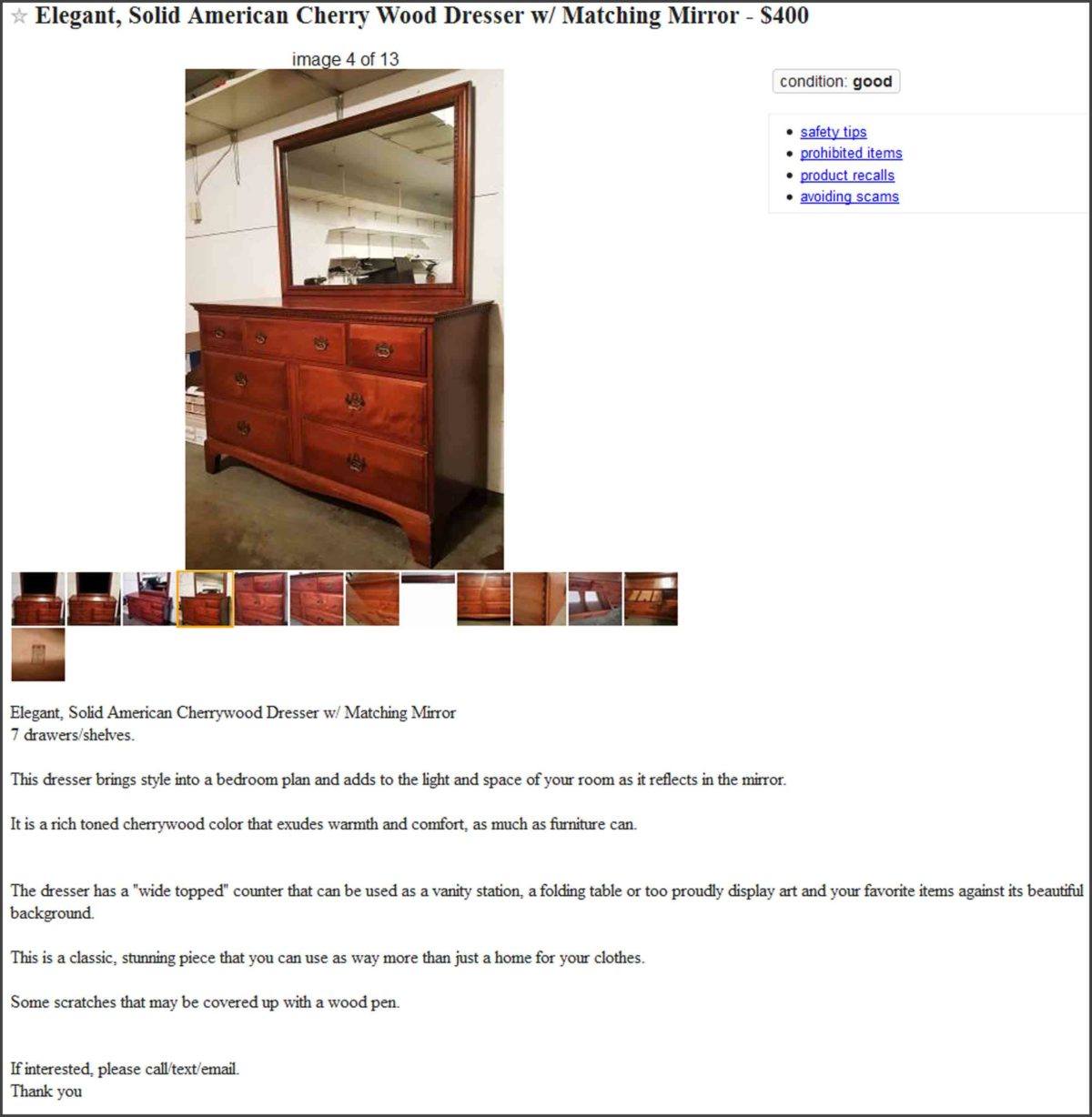 This sold 15 days later for $240.
Profit: $150
[blank_space height='1em']
Case Study 4:
Finally, something more modern looking! This grey painted dresser not only looked good, I also liked its hardware.
But what do I always say?
It's not about what I think. Or what you think.
All that matters is what the market thinks.
This will sell.
I paid $75 for this.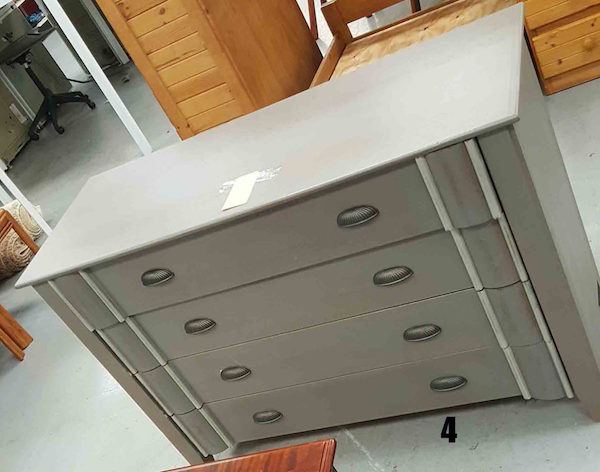 Here is the ad I posted up: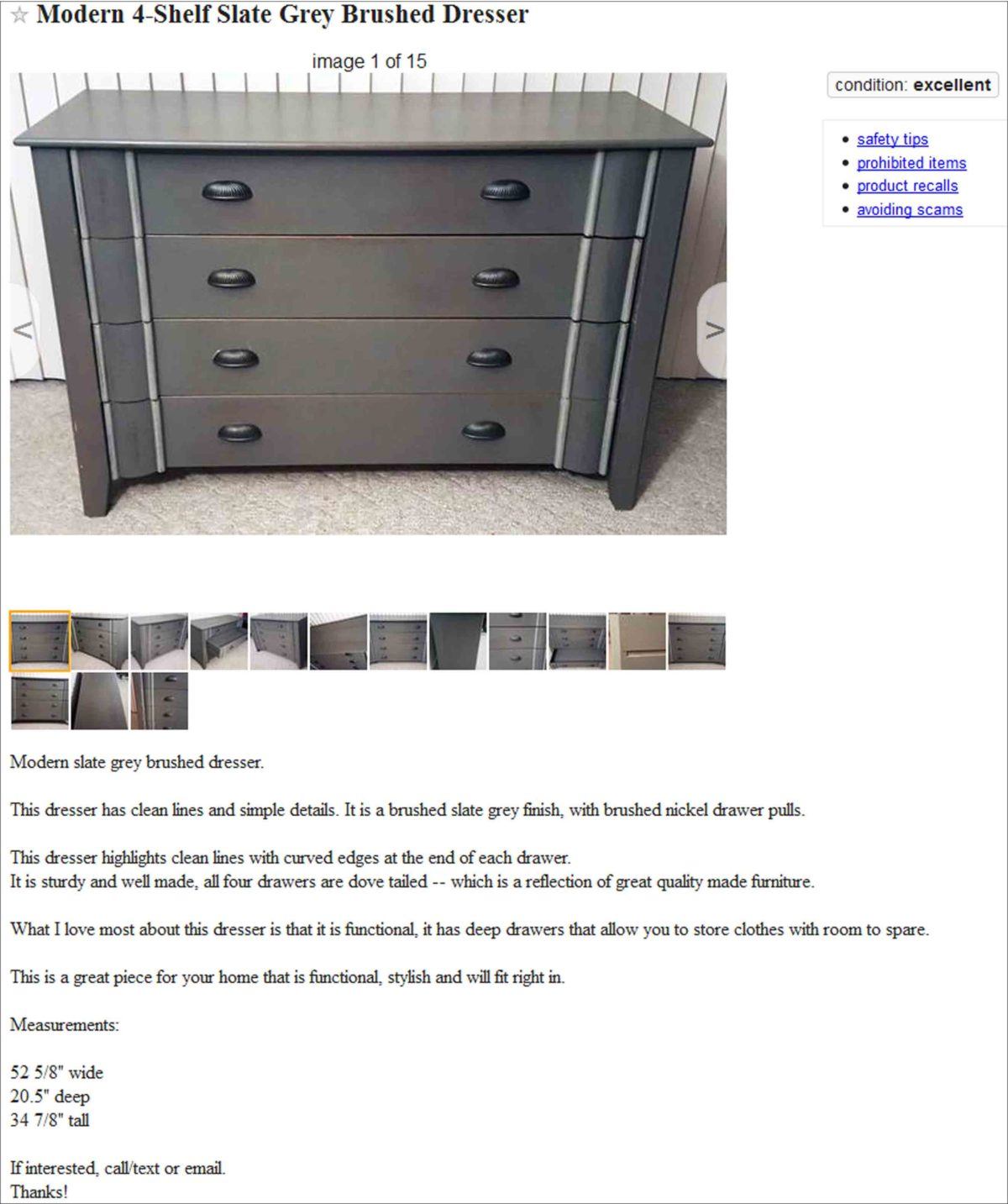 This sold for $300 12 days later.
Profit: $225
[blank_space height='1em']
Case Study 5:
This immediately caught my attention. Look how beautiful, smooth, and red the wood is. EPIC! (I feel like Flipping has made me a furniture nerd now, lol. You'll become one too once you start monetizing them!)
To top it all off… It's made by Ethan Allen (quality, built to last brand).
I bought it for $8 bucks.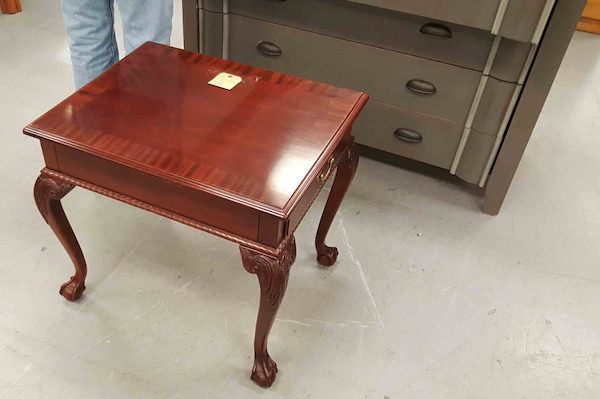 Check out these awesome claw & ball feet!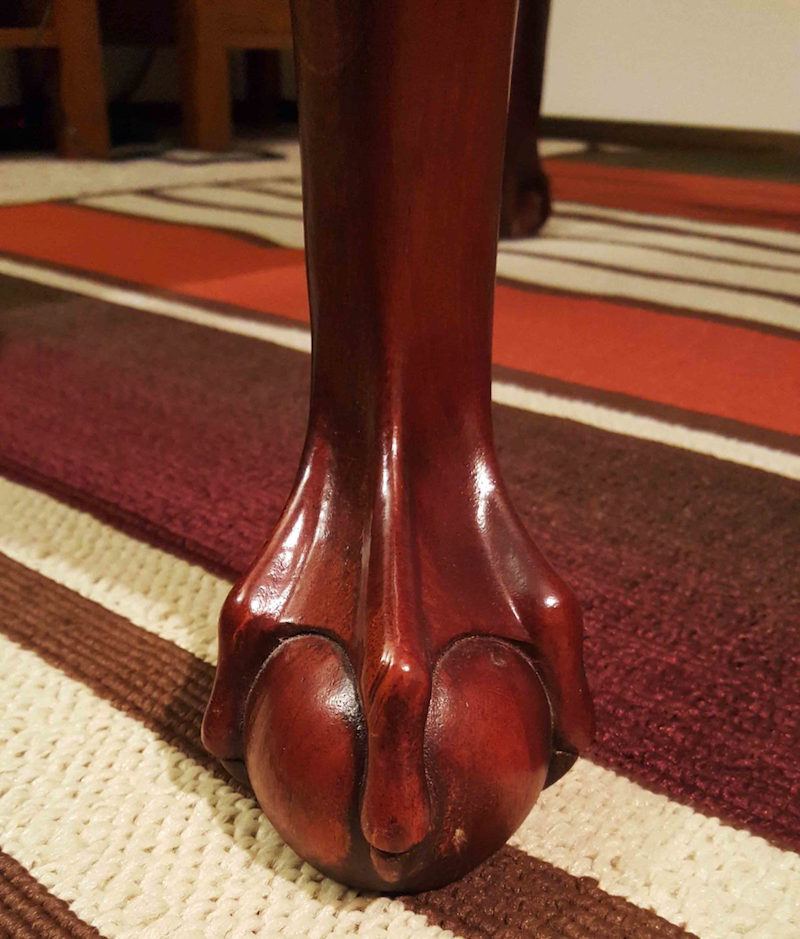 Here is my ad: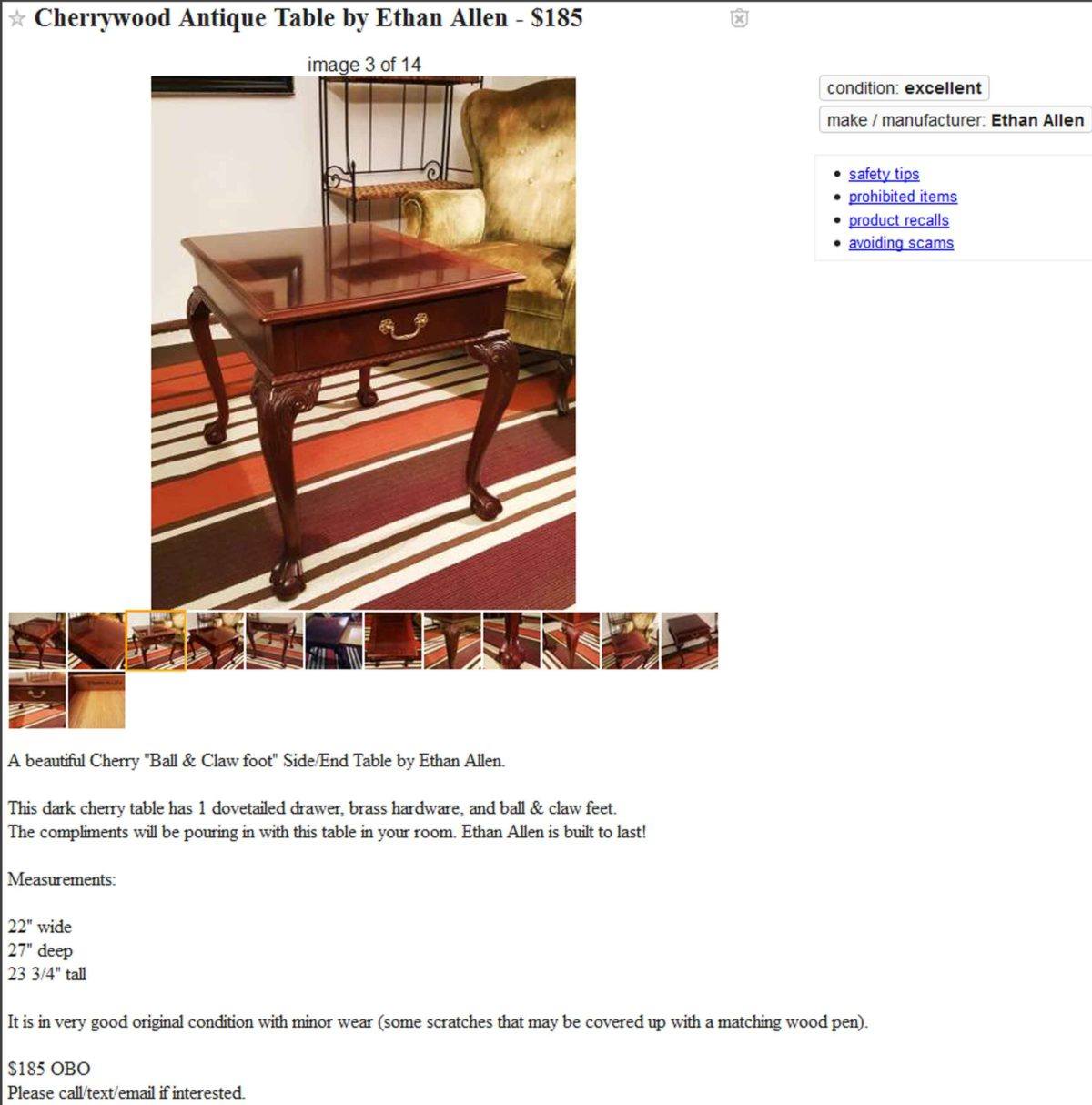 This has not sold yet, but I expect it to sell for at least $75-$90
Profit: $67-$82
[blank_space height='1em']
Case Study 6:
I bought this bookshelf for $25: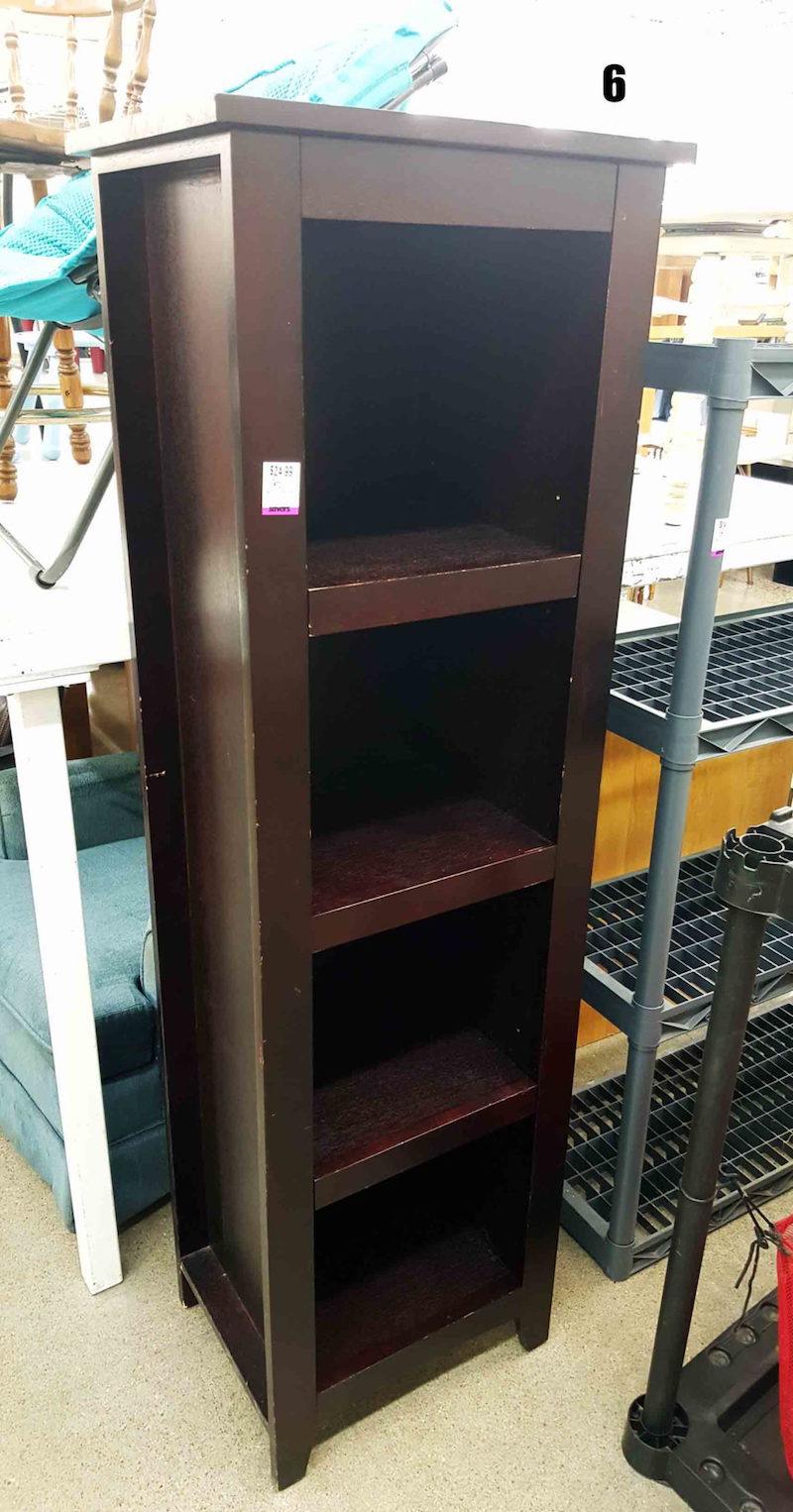 It ended up selling for $60 about 3 weeks later.
Profit: $35
[blank_space height='1em']
Final Tips on Dressers:
Always inspect them. Look for:
Any scratches/chips/damaged areas/drawer sliding issues
Stability/balance issues. Make sure they are sturdy
Drawers that are "dove tailed" — which is a reflection of great quality made furniture. Here's an example of dove tail joints, notice the pattern and way the corners attach to eachother: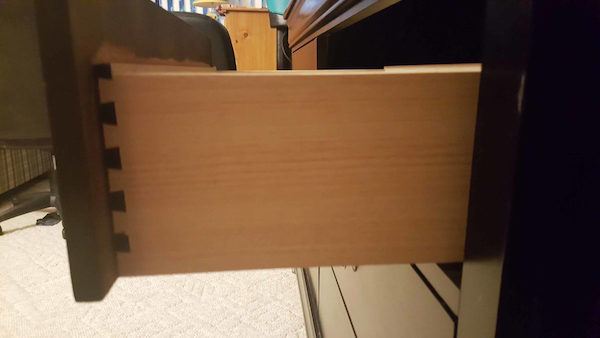 Make/Manufacturer. This can usually be found INSIDE one of the drawers, and is typically STAMPED, or on the back of the actual dresser. Here's an example: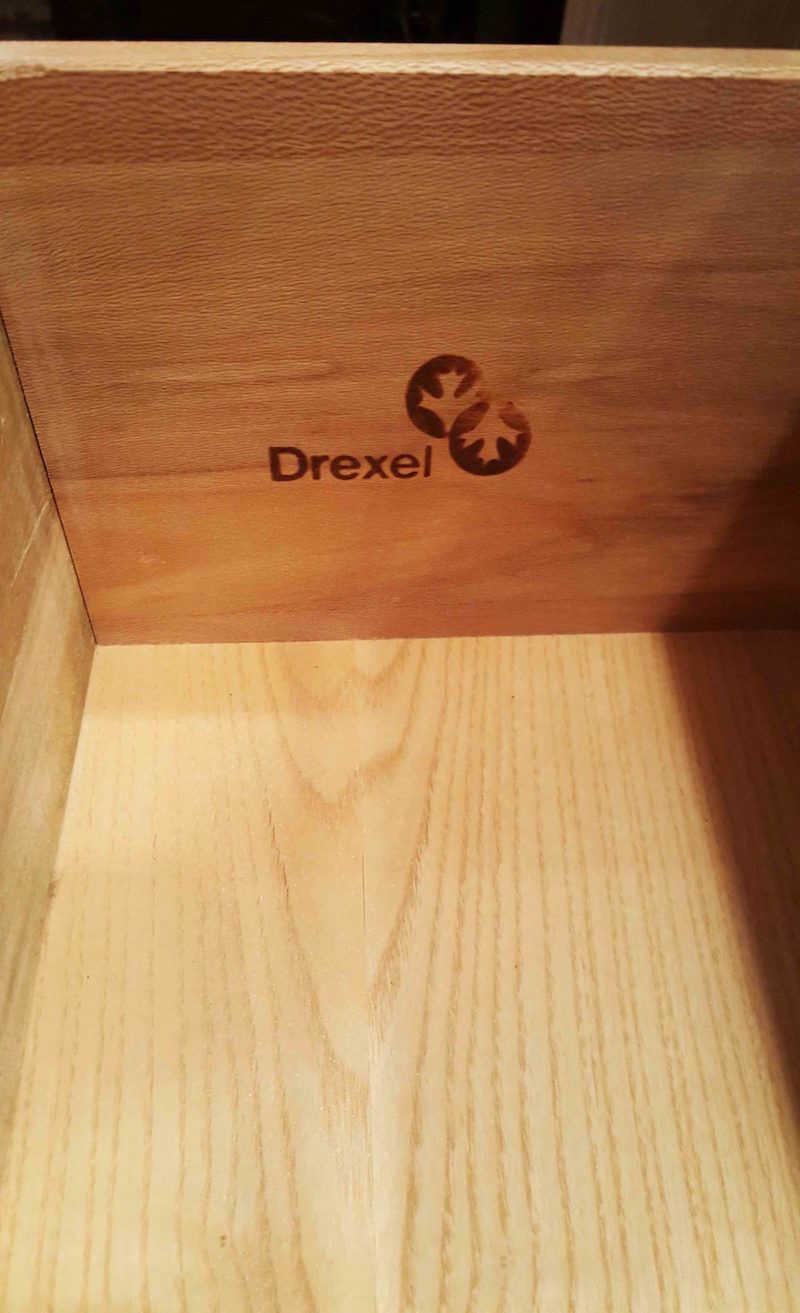 [blank_space height='1em']
Conclusion & Profits:
Total profits from JUST the above case studies come out to be approx: $921-$936 — depending on how much the Ethan Allen Side Table that hasn't sold yet, ends up selling for.
All in less than 21 days (and this is just ONE niche out of the many niches available).
What did I put in?
Total… let's break it down.
Stopped at Thrift Store, saw items, bought them: Estimate about 20 minutes
Picking up each dresser and taking it home took 18 minutes each, for a total of 72 minutes (1 hour and 12 minutes).
Taking photos & creating ads for each: 30 minutes
Total time spent to make $921-$936: 2 hours and 2 minutes
Moving help? I paid a college student $20 bucks to help me load it all in.
Now keep in mind; I didn't put much energy, time or resources into the above items. I went through all those items in less than 2 weeks.
Now can you imagine if you're putting in 40-60 hour weeks into flipping? You can do a lot of damage and that's what I love about sales. There really is no ceiling to how much you can make and it's completely in your control once you really learn to master it.
[blank_space height='1em']
Becoming a Money Making Machine: How I Did It and How You Can Do It
Are you someone who REALLY wants to start making money flipping things, but don't have the knowledge, confidence, or experience yet?
You see, after I started to learn and actually see what the flipping business could do for me, I walked away from my full-time, $60k per year corporate job.
I started to value my time more than I valued the money from sitting in a cubical all day where I wasn't learning, I wasn't growing, and I was just unhappy.
I reached a point where I realized that my time was worth much more than that.
But it wasn't always like that.
A LOT had to happen for me to reach that point where I could pull off something like that.
I had to develop a lot of skills, knowledge, and confidence to reach that point where I could quit my job.
Now — I've never been more happier in my life.
I've got all the time in the world to do what I want, on my own terms. I set my own schedule, I can take a vacation anytime I want, and I don't have to dread waking up to an alarm clock.
I can work on other projects I've got going on, I can learn, read, spend time with family and friends — completely on my own terms.
Eventually after some time, I decided I wanted to help others reach the same point.
That's why I created The Flipping Ninja Blueprint.
Flipping has allowed me to do so much. It's given me freedom, money, and so much more. I want to help you do the same.
Don't waste months or years of trying to go at it alone just using bits and pieces of information. If you want to start attracting money and deals everywhere you go, know WHAT to look for, HOW to market things, WHAT to buy, HOW to craft ads that sell, and so many more insider secrets from a Flipping Ninja whose generated $32,100 in profits in one year all from flipping, head on over here and pick up The Flipping Ninja Blueprint.
It's not that you're lazy. It's that you have a lack of information. Information should lead to action. Get your information right. Get your head right. Get your DOING-NESS right. Invest in yourself today.