Flip of the Week: Gold Framed Mirror
Getting Paid 10$ for 10 Minutes of Work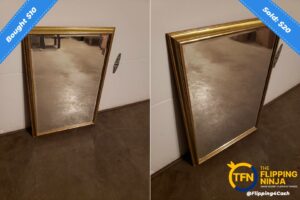 Another *unintentional* thrift store flip, I found this gold-framed mirror just sitting in there waiting to be snatched up. I actually bought this mirror to put in a certain room in my house, and kept it for maybe about a year or so, before deciding to get rid of it. 
Anytime I want to upgrade something at my house or swap something out — I almost always end up making money on the item, so I'm basically getting paid to have stuff and furniture in my home! When it was time to sell — I threw it up on Craigslist for $20 bucks and it sold almost instantly. 
Nothing crazy, nothing fancy about this flip, it was a cheap item and I ended up pocketing $10 bucks when I was done with it.
The ad description for this was short but sweet. There were descriptions of its key feature: the golden frame. In the end, the pricing and the ad description were able to sell it at my target price — the intention being a quick sale.
I was happy with this flip, overall.
Rating:
Profit:
⭐
$10 profit isn't much, but considering the fact that I used the mirror for about a year and got PAID $10 bucks to get rid of it basically — I feel good about that. But if I were to rank this with my other flips, I'm giving this a one-star rating. It's definitely not bad, $10 bucks is $10 bucks, but it could've been better.
Transport:
⭐⭐⭐⭐⭐
Super easy. I bought this with other items and my car had plenty of space.
Time Spent: ⭐⭐
About 10 minutes of work for this mirror. Two stars. Fair trade-off.
(although if you think about it… imagine working at a job that paid you $10 every 10 minutes… That'd be $60 an hour!)
OVERALL: 2.6/5
Overall I'd give it 2.6/5 considering these factors:
Time spent:

≈ 10 minutes

Transport:

Picked up along with other items in my SUV

Profit:

$10