I didn't think I'd find ten-dollar scooters in a thrift store, turns out they exist and I found two. When's the last time you heard of ten-dollar electric scooters?
You can definitely bet I bought the pair. I had high hopes for the profits I was gonna get from this flip. The least I could get would be a hundred bucks. And I did.
Here's the ad description:
Looking for an exciting gift for your kids or grandchildren?

Christmas will be here before you know it. Why not make their eyes light up like they never have with this just for kids – Razor Blossom Electric Scooter Duo.

The Razor Pocket Mod Electric Scooter is ideal for any stylish kid with a sharp eye for fashion and a passion for fun. 

Vintage-inspired styling meets high performance in this classic Italian design. Praised in Newsweek, TIME, and Teen Vogue, these kids' electric scooters are pretty in pink. 

Your children will love feeling like they are riding the real thing and the handy storage compartment under the seat provides a safe spot to stash a bag and other items. 

The 250-watt chain-driven electric motor provides zippy acceleration up to 15 miles per hour. 

The 12-volt batteries will power the Razor scooter for up to 30 – 40 minutes on a single charge and the big 12-inch pneumatic tires deliver a smooth and comfortable Euro-style scooter experience for kids.

Perfect for kids ages 11 – 15.

Grab these two for one set for a steal at $300.

Measurements:

Height: seat – 21", handlebars – 27"

Length: 49"

Used and in good condition, though has been stored in the garage. 

Does not come with chargers, though Amazon sells them for $10-$15 bucks.

Clean and ready to bring a smile to your beautiful children's faces.

Call/text/email if interested. Thanks.

Will delete post once items sell.
The pair was sold in a month.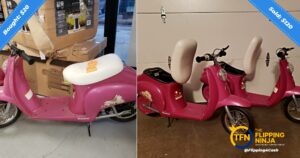 Rating:
Profit:
⭐⭐⭐⭐⭐
$100—Five stars.
Transport:
⭐⭐⭐⭐
Bulky—but had an SUV so piece of cake.
Time Spent: ⭐⭐
⭐⭐
Spent around 70 minutes of work — including wiping them down with Lysol wipes. Four stars.
OVERALL: 4.3/5
Overall I'd give it 4.3/5 considering these factors:
Time spent:

appx. 70 mins

Transport:

Bulky but easy via SUV.

Profit:

$100