I got this one from a thrift store. It was only $7.99 so I bought it. Any furniture that's less than ten bucks is usually a safe bet for flipping. 
The reason I loved this flip is that – although the profit wasn't a ton when I sold it, I actually USED this table for over a year. It was super functional and served me well. I've done that with a lot of furniture pieces actually, and the best part is that once you eventually sell the item, you're pretty much getting PAID to have kept it!
Because of its simplicity, there wasn't much I could put into the ad description without sounding like a desperate salesman, so I avoided going that route. Instead, I did this:
Italian Diana Royal Marble Circle End Table $40 (Bloomington)

Beautifully polished Diana Royal Marble adds a soft but elegant look to any home.

Known for its ability to create a feeling of refined grace with a royal feel, Diana royal marble is perfect for enhancing the look of any room.

The wood base is a classical design, painted with white cream and gold accents.

This darling little table would be perfect as a night stand, end table or anywhere you're in need of a beautiful art style piece. 

19 inches tall

15 inch diameter

47.1 inch circumference 

3/4 inch thick marble

Made in Italy

Marble is in perfect condition. Table like new!

Call/text/email if interested. Thanks.
What do you think of this ad? I personally think it was short and sweet. Just like the table.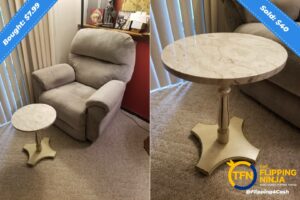 Rating:
Profit:
⭐⭐⭐⭐
Anytime I make a 5x ROI it's going to be at least four stars. Not to mention, I kept and used this table at my house for over a year. It served its purpose.
Transport:
⭐⭐⭐⭐⭐
Fairly portable as a piece of furniture. Five stars
Time Spent: ⭐⭐⭐⭐⭐
About 30 minutes of work. Five stars.
OVERALL: 4.7/5
Overall I'd give it 4.7/5 considering these factors:
Time spent:

30 minutes

Transport:

Fairly portable

Profit:

$32