This flip was super awesome.
I was outside the local thrift store when I found this vintage leather chair. My first thought when I saw it was "Oh my God, super profit right over there". 
If you saw it in real life, it wasn't appealing. It was dirty and covered in dust, and the stability of the chair left a lot to be desired. But what's harder to disregard is its craftsmanship. The combined tufted seat and blue-hued leather is quite a unique look for a chair. I was instantly drawn to it.
Fortunately for me, and I don't say this lightly, it was priced at $7.99. Eight freaking bucks!
The chair had a brand from the looks of it. It was made by Hickory Leather Company. With such a low price, I didn't even need to do a quick search on it. So I bought it, took it home, and did my cleaning.
This is where Wet Wipes came in handy. I probably used two or three tubes of Lysol Wipes to clean this chair up. There were deep recesses of dirt inside the tufts and all around the chair. But it was quick work.
I posted the chair on FB Marketplace and Craigslist for $150. It didn't take long for inquiries and emails to come in. It was in demand at the price I listed. It was sold in just 3 days with a profit of $142.
Here's the quick ad description I wrote for the chair:
Made by premium brand Hickory Leather Company 

These chairs originally go for $1,500 – $2,000+.

Tackle your tasks aboard this vintage executive chair. 

The high back stature of the chair will give larger people a comfortable time while they tick off their tasks of the day one by one.

Swivel if you must, because your body will demand a different posture a couple of times every hour. This provides smooth sailing in that department.

This chair stands on wheeled legs which allow for great maneuverability and mobility while sitting down. Pretty convenient!

It's upholstered in exquisite blue leather. The shine is beautiful and polished to a very luxurious sheen. With the spectacular varnished wood and the nailhead trim accents, it's a beautiful vintage addition to your home or office.

The chair is in good condition although the mechanism underneath may need to be tightened up/looked at. Its age adds a certain character to it. Very beautiful!

Call, text, or email if you're interested! Thanks for reading!
Decent cash for twenty minutes of work.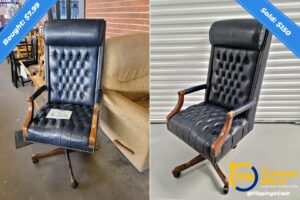 Rating:
Profit:
⭐⭐⭐⭐⭐
$142. Definitely five stars, hands down a great flip.
Transport:
⭐⭐⭐⭐⭐
Picked it up with my SUV. Easy transport. Five stars.
Time Spent: ⭐⭐⭐⭐⭐
About 20 minutes of work. Five stars.
OVERALL: 5/5
Overall I'd give it 5/5 considering these factors:
Time spent:

≈ 20 minutes

Transport:

SUV

Profit:

$142