The moment I saw this terminator action figure, I knew I'd be making a nice profit. Intricate action figures from well-known brands, especially if they're a limited edition piece fetch for good amounts of money. The fact that this toy was being sold for only $6.99 made it an even more irresistible deal.
If you do get your hands on items like these and you want to make as much money as you can, you don't want to screw up your marketing. It's always a safe bet to make the photos as appealing as possible. That would mean good lighting, beautiful staging, and a decent camera. You don't have to use an expensive DSLR camera with your photos, by the way. Cameras on phones these days have great quality, so use them.
For action figures, the most suitable platform to post them on, I've found, is eBay. You've got a worldwide audience with an auction system. And that's pretty handy, because if your item is a good catch, you're letting your customers decide how much they want to pay for it. Sometimes, it might exceed your expectations.
So I posted it on eBay, but I decided not to use an auction-style listing because I knew this was a HOT item that sells for a lot and I didn't want to risk it being sold at a much lower price than I wanted. They were selling this toy on eBay for $150 – $200+. When I was at the thrift store and initially saw it, I just thought it was a cool-looking toy, but once I looked up its value, I realized it was a rare Terminator collector's toy.
Here's the ad description:
Terminator Salvation Deluxe 16-inch Harvester Figure – $150

Extremely Rare & Hard To Find! 

Feast your eyes on every Resistance Soldiers' worst nightmare…the Terminator DELUXE HARVESTER!  

The Harvester is the giant Terminator robot.

This iconic Machine was constructed by Skynet to hunt down and dispose of the brave and heroic Resistance Soldiers who seek to destroy the machines!  

The Deluxe Harvester stands tall and comes LOADED with features including lights. 

Build your own army and battle the Resistance!

Harvest this for your collection… or run for your life!

This is a must-have for your collection.

This is even great as a gift to robot enthusiasts.

Collect this before it becomes harvested by someone else!

This can be yours for only $150.

Call/text/email if interested. Thanks
It was sold after two weeks.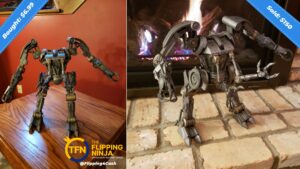 Rating:
Profit:
⭐⭐⭐⭐⭐
$143—Five stars for this Terminator toy. Freakin'  sweet.
Transport:
⭐⭐⭐⭐⭐
Very Easy. Five stars.
Time Spent: ⭐⭐
⭐⭐⭐
Approximately 30 minutes of work. Five stars.
OVERALL: 5/5
Overall I'd give it 5/5 considering these factors:
Time spent:

appx. 30 mins

Transport:

Very Easy

Profit:

$143