You might be wondering why I like flipping chairs so much. Two reasons:
They're usually underpriced in thrift stores, and

There's always a demand because upholstered chairs are freaking expensive when bought brand new.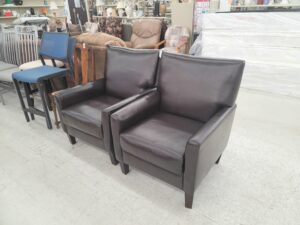 So when I found this pair just sitting pretty in the thrift store, I walked straight to them. Then lo and behold, the price was only $19.99 each! These had great profit potential.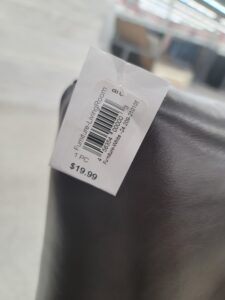 So naturally, I go through my flipping process. After they were purchased, I brought them to my storage unit and took photos. Stashed them, edited the photos, then wrote an ad description detailing its wonderful features. 
I made sure to add in its condition; it had a few scratches and scuff marks on the leather, but overall it was a great seating experience. Gotta put in the disclaimer so customers know what to expect. All that work took about an hour.
Finally, I posted the item listings online. In six days I got a call. It was sold.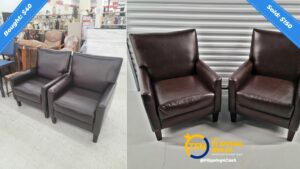 Rating:
Profit:
⭐⭐⭐⭐
$110 is decent profit for chairs. Not the best, but definitely not bad. Good work.
Transport:
⭐⭐⭐⭐
Big items like chairs and furniture always take more time loading up, so I'm giving this one four stars.
Time Spent: ⭐⭐⭐⭐
About an hour's work.
OVERALL: 4/5
Overall I'd give it 4/5 considering these factors:
Time spent:

≈ 60 minutes

Transport:

No problems with transport. The loading wasn't bad, but bigger items take more time. 
Profit: $110 – decent profit for an hour's work of flipping.