This guitar was in such decent shape, I wondered why it was in a thrift store. In the end, it didn't really matter as long as it worked just fine. Almost anything under ten bucks inside a thrift store will make a profit. I was glad this one only cost eight.
Here's the ad description:
FN634G 34-Inch Guitar

Beautifully crafted guitar, perfect for young children.

Just like more expensive guitars, the strings are placed specially close to the fingerboard for easy playing and to provide a full, rich tone.

Special features like steel tuning gears for durability and accurately placed frets for correct intonation make Firstnote guitars perfect for young students. 

The perfect size for children 8 and up

Good condition. 

Call/Text/Email if interested. Thanks!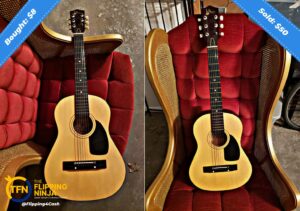 Sold in six days.
Rating:
Profit:
⭐⭐⭐⭐
A $42 profit in six days—Four stars.
Transport:
⭐⭐⭐⭐⭐
Easy. Small item. Easy flip. 
Time Spent: ⭐⭐
⭐⭐⭐
Just around 30 minutes of work = $42. Five stars, I'd say that's not bad. 
OVERALL: 4/5
Overall I'd give it 4/5 considering these factors:
Time spent:

appx. 30 mins

Transport:

Easy

Profit:

$42