Beautiful. A table this good-looking being sold for $15 bucks is a jackpot.
I bought this table from a thrift store. I decided to buy it because of its cheap price and good quality. 
Here's the ad copy for the item:
Looking for a new end table that will bring some beauty and style to your home?

This darling table is a classic beauty with a special charm.

Made in Italy, this table is full of Italian flair and character.

Perfect for soft settings or mixing up an eclectic contemporary room.

The possibilities are endless.

The vibrant white marble top is solid and removable from the table's base for safe moving and easy transportation.

The base is a beautiful dark cherry wood carved into the shape of a harp.

Perfect height for an end table in your living room or a night stand by your bed.

This one of a kind Italian end table is waiting to be loved in a new home.

Call/text/email if interested. Thanks.
Sold in under a week for $80, I posted this on FB and Craigslist. The FB crowd won. The customer was pretty happy he found a super cheap marble top table. So was I. 
Successful flip all in all.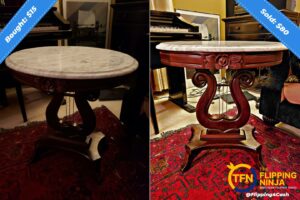 Rating:
Profit:
⭐⭐⭐⭐
Got a nice $65 return from my $15 investment. I'm giving it four stars.
Transport:
⭐⭐⭐⭐⭐
Used my SUV to transport it so it was fairly easy. Five stars.
Time Spent: ⭐⭐⭐⭐⭐
About 35 minutes of work. Five stars.
OVERALL: 4.7/5
Overall I'd give it 4.7/5 considering these factors:
Time spent:

35 minutes

Transport:

SUV—easy

Profit:

$65