This set was sold during a moving sale. Bought all four of them for $35 at the local thrift store. It's nice that they were a set because I assumed bar stools usually don't get bought alone. They were of good quality and with the cheap price, I decided it was a good bet.
Here's the ad description:
*MOVING SALE* 4 Metal Bar Chairs Stools Gray Leather US Furniture Industries Inc

Make breakfast at the bar extra comfy with these 4 Metal Bar Chairs Stools.

The seat structure is made up of steel bars for extra sturdiness and then topped with gray cushions for comfortable seating.

The tufted cushion backrest makes the seat look extra classic. 

Its armrest is outlined with wood to keep your arms warm while you enjoy a good meal. 

It also has a metallic circular footrest so that your feet and legs can rest comfortably too. 

To make it extra sturdy is a four-spoke base that prevents you from toppling over. 

The stools are made by US Furniture Industries, a premium solution to home furniture needs. 

LIKE NEW CONDITION – see pics 

Measurements:

23.5″ wide 

23″ deep 

43.5″ tall

Call/text/email if interested. Thanks.
Posted the ad listings on FB Marketplace and Craigslist. It took about 24 days for this to get sold. The customer was happy he found a four-set.
Successful flip overall.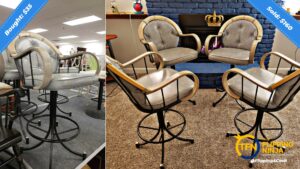 Rating:
Profit:
⭐⭐⭐⭐⭐
$125—five stars
Transport:
⭐⭐⭐⭐
Fairly easy since I have an SUV. Four stars
Time Spent: ⭐⭐⭐⭐⭐
About 50 minutes of work = $125. Five stars.
OVERALL: 4.7/5
Overall I'd give it 4.7/5 considering these factors:
Time spent:

50 minutes

Transport:

Fairly easy

Profit:

$125