We're living in a world with so many opportunities to make money. Never before have there been these many ways to earn a good living, aside from working 9-to-5 at the office. Unfortunately, few recognize this fact. And that's what this article is all about.
Here, we're going to talk all about flipping. But what is it?
Flipping is the act of buying something, fixing it up, and selling it at a higher price. It's one of the best ways to earn good money.
That's if, you know how to do it right. Sounds simple, eh? Well, that's not all to it as you need to consider a lot of things when dealing with it.
Read on to know all about this legit money-making hustle called flipping.
Work at your own hours.
One of the best things about becoming a full-on flipper is that you work on your own hours. No longer do you have to wake up at 6am, rapidly shovel down breakfast & take a shower, then rush to work while drinking a cup of coffee as you're stuck in a traffic jam.
Say goodbye to those pesky daily challenges you need to go through at your ordinary day job. The amount of time you need to work depends on you. 
Imagine picking up an item, spending less than an hour or so refurbishing it, creating a quality post/ad for it, then posting it up for sale and banking a cool $50-$300 cash.
Not only that… you'll get faster at it with time. One day you'll notice that you've flipped 5 items in a day and sold all of them for major profits. Isn't that sweet? Becoming a flipper means that you're now an entrepreneur. You are now your own boss.
Earn big money.
There's no limit to how much you can earn when flipping. Although it might be a bit challenging initially with a slight learning curve at first, once you get the hang of it, let's say in around a month or two, then you can be making more than your average office salary.
It's all about mastering your skill of finding low-priced products that are sellable, refurbishing them and making them function better or look more appealing, and selling them at a higher price.
Profiting around $200 per flipped item isn't hard. You can even make around a thousand bucks if you get a great deal!
'Zero to Hero' is possible.
Another cool thing about flipping is that there are free items out there you can get with spending virtually zero dollars. Simply head to Craigslist and search for items posted in the FREE section. These are usually handed out to other people, because either their owner doesn't need them anymore, they're moving, or they just simply wanna get rid of them.
And keep in mind — just because they're posted for free doesn't mean they're garbage or broken items. A lot of times there'll be nice items that you can pick up and easily sell. Usually, all you need is just freshen them up, either by cleaning, fixing, or replacing a few parts.
Take high-quality photos of the item, add a killer description, and you're good to go. Doing these two things will automatically increase its value, which means 2 things: 
People will want to buy it

You will make money 
So, yes, you can go from zero to hero quick as long as you know where to get low-priced items, learn to refurbish it with spending as low as possible, and increasing its value with a few marketing tactics.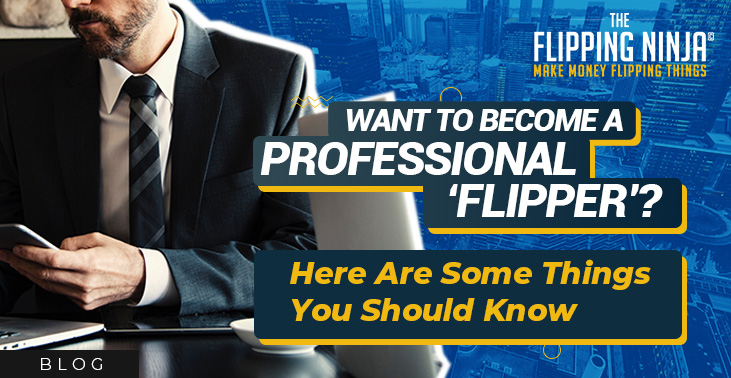 Income stability at its finest.
Flipping might seem like a side hustle, but it's more than that. That's if you invest your full effort and time to it that it becomes your passion. Why? Well, first off, is that you can literally flip anything, whether it be a cabinet, shoe, gadget, or even a plain old dirty rag (well, maybe not that, but you get my point).
There's no shortage of "flippable" items because you're on Planet Earth! As obvious and as crazy as it sounds, that's the truth. You can flip anything and sell anything because somewhere there's a person who's going to need that thing you're selling.
You just need to be consistent in finding new items to flip. If you're exhausted or tired, stop for a bit, and continue once you've recharged. It's all about consistency. And when you've got it, then there's no looking back as you count your money by the bundles.
Not a tech geek? No problem!
Flipping might rely heavily on your ability to sell online. Yes, that's true, but that doesn't mean you need to be a computer geek of some sort. Flipping is a learning process and you need to go through a learning curve to get a feel of things and to become an expert at it.
It might be a bit challenging at first especially if you're finding your first item to buy and then looking for ways to fix it and make it more appealing. Go through that process and after a few deals, you'll be doing it in your sleep.
What you need to learn is pretty simple. Things like:
Learning how to explore Craigslist
Comparing prices and values
Googling things to learn more about them
Knowing how to take good photos that sell
Posting items online for sale
Not so hard!
Conclusion
With all this being said, one can clearly see how flipping things for profit is a very profitable business. It might sound too good to be true, but in reality, it's a great way to earn good money without stressing yourself and still having lots of time to enjoy life at its fullest.
That's if you know the right way and you know what to expect. Well, that's just what this article did. Take our advice seriously and bring it with you as you journey through your flipping career.
Just remember to be consistent, always take the next level to improve your skills, and make it a habit to learn new things. When you do, then there's no doubt you'll be earning big time — with flipping.