August 9, 2016, The pressure was on. Bodybuilder, entrepreneur and author, A.J. Hakimi, aka The Flipping Ninja©, was stressed by work, needed a break and didn't want to pay for it.
"I was going to take a weekend trip to L.A.," Hakimi explained how the miracle began. "But, I realized I needed 4 days – I love the feeling there, it's amazing."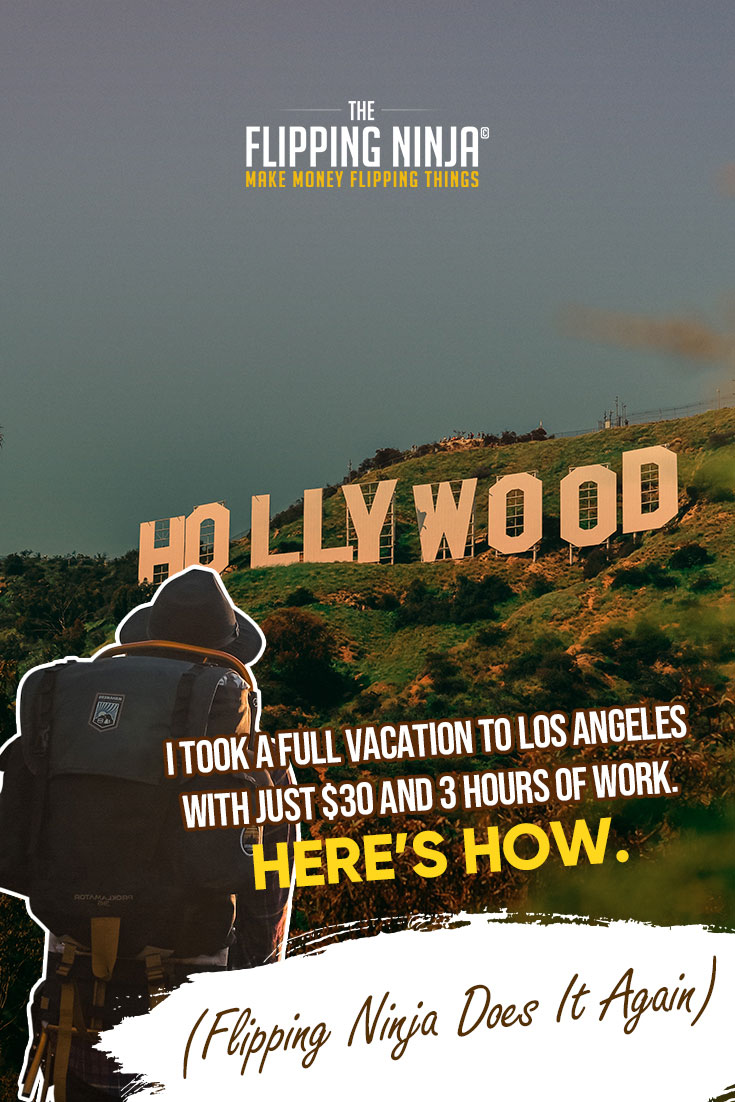 Baulking at the $700 to $800 he'd have to expend for plane, hotel, car rental and spending cash, Hakimi set himself an ambitious challenge: pay for it with what he had in his pocket (in the gym) and as little effort as possible.
That turned out to be $30 and 3 hours' work (but he claims it's more like fun). We asked Hakimi how he did it:
"I had 3 weeks to put it together, so I started with my latest buy for $30, a Slam Man Pro Boxing Martial Arts Karate Punch Dummy/Bag Punch System."
According to price research on eBay, this stoic opponent is selling for $399.99, used. Hakimi got $150 for it.
"I was in a rush," he explained. "I accepted the minimum and then went hunting.
"Awesome looking, real leather, sectional sofa in this Thrift Store and they only wanted $150. Jumped on it."
And you can see him doing it. This 25-year-old is pure energy and purpose. He makes it work for him.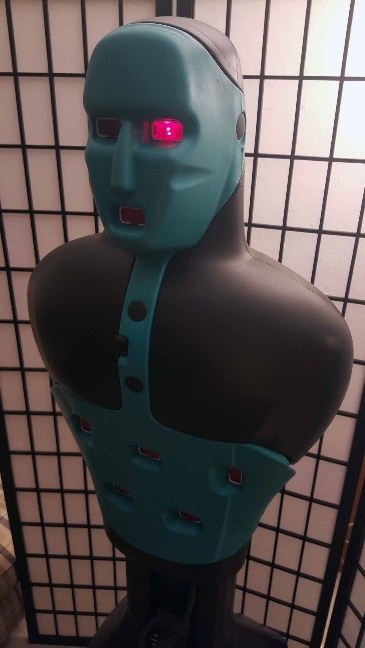 "I put that energy in the ads, in the language. And I respond fast, it's my nature."
Two days after posting his $150 couch, it sold for $500, taking him to $350 profit and real progress.
"I had L.A. on my mind and went straight back to the Thrift Stores and scored a matching pair of recliners for $40, sold them for $450 that weekend. KaChing, $410 in hours!"
In fact, he'd reached $760 over 2 weeks, but his actual time spent was minimal.
"I'd covered my hotel, rental car and plane ticket, plus an extra $65 to spend, but the three weeks weren't over. I checked the slickdeals.net site and found a weight set at Walmart – yes, I'll flip retail if it's priced right!"
He's such the atypical flipper – or proves how false our preconceptions are:
"Everyone's flipping now, students with crap jobs, people stuck at home or in jobs they can't stand. I started as a hobby and now I can fund whatever I need through flipping, from gym equipment to house refurbishing …"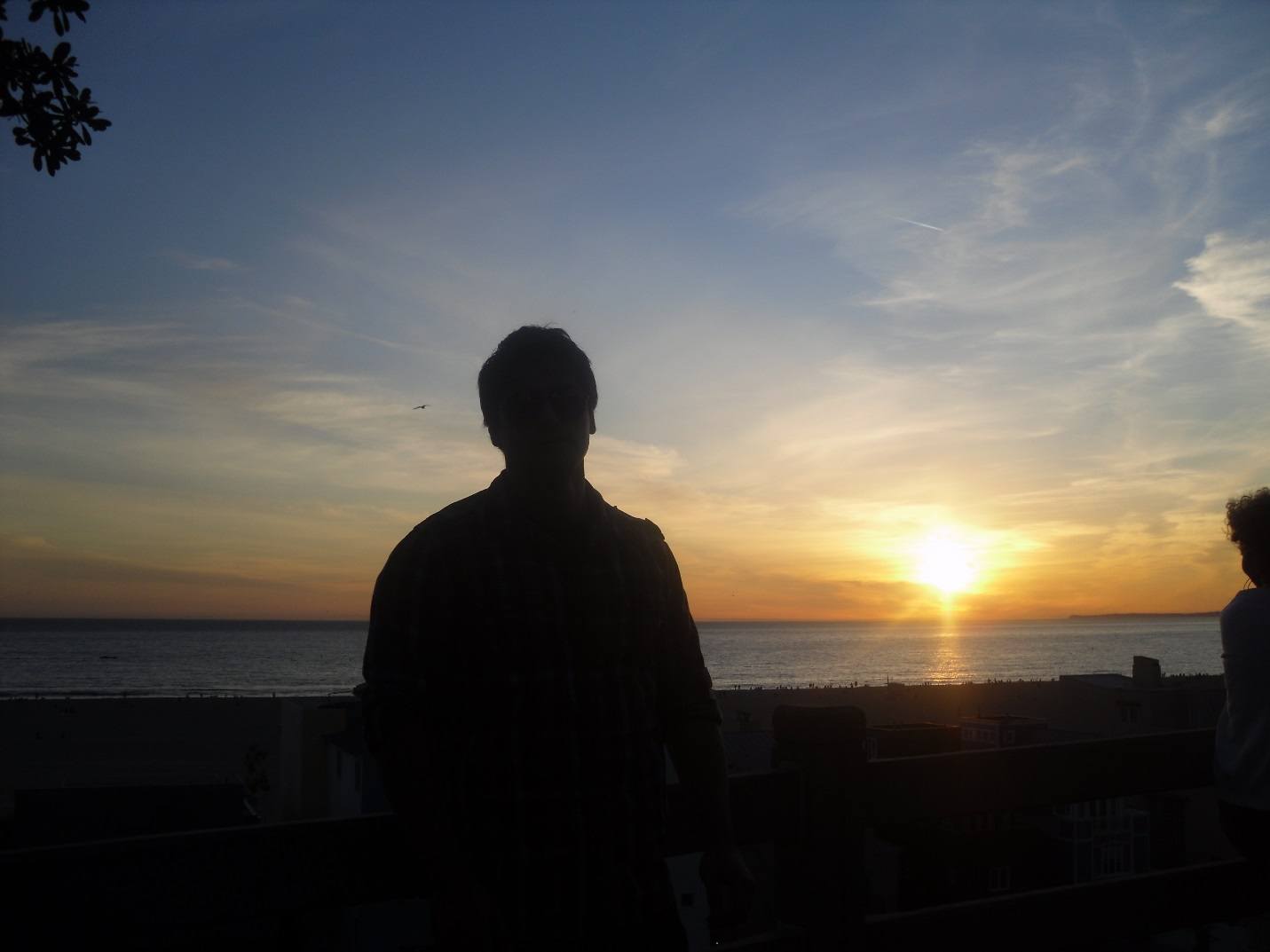 As to that weight set?
"I paid $17 for it, but there was a 100 lbs. barbell set for $25 as well and I knew that you increase saleability when you package items creatively."
This is the man who cleaned up 2 old bikes and sold them quickly for profit by packaging them as Vintage "His and Hers" Bicycles. His weight set package sold in days for $85.
A few days, a few flips and Hakimi made $802 to pay for 4 great days in L.A., plus spending money. And what did he do when he got there?
"I flipped watches and made $350 in one hour! It's like having your own, private ATM."
"Being able to make money wherever you go, anywhere, anytime, is the type of self-investment that even your parents would be proud of. I felt it was my duty, obligation and responsibility to share these secrets with the world. So I created The Flipping Ninja Blueprint©."
Maybe flipping is the new economy? The ultimate form of recycling? Whatever it becomes, it's certainly trending and this Flipping Ninja, author of The Flipping Ninja Blueprint©, is at the crest.
[thrive_link color='green' link='https://www.theflippingninja.com/blueprint' target='_self' size='big' align='aligncenter']Learn More[/thrive_link]