Flip From Nothing To Everything – Start With Free Items
FREE Items.
Look around your house. I'm sure you've got random things that have been sitting there that you may have completely forgotten about that you don't need. Monetize them!
Clean it up, stage it, take some nice photos, and write a killer ad description. Then post it up on Craigslist or eBay.
Believe it or not, there are hundreds, if not thousands of dollars' worth of random items in your household now you can sell.
The other place you can find FREE items is on Craigslist (CL) itself in the FREE section. People are always looking to get rid of their things quickly so they post them up for free here. You'd be amazed at what some people will post. I've picked up several FREE items and made hundreds of dollars from them.
This almost sounds too good to be true, but you can make money with zero capital through free items. And, by following my Blueprint, I can show you how you can develop the Eye for the Deal© for these things. That's what happened to me.
Here's an example from last month of how I made $275 from a FREE sectional couch I came across: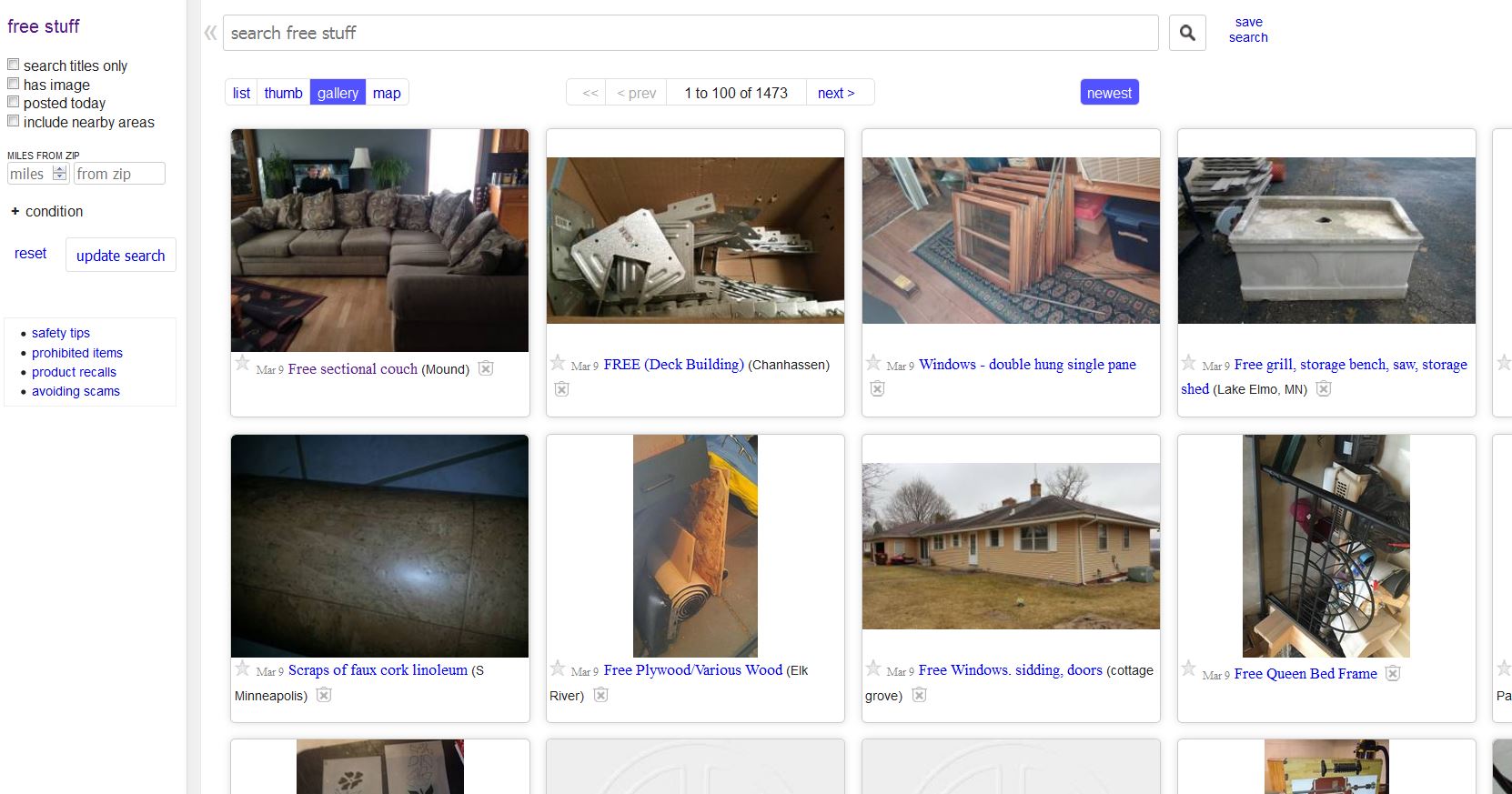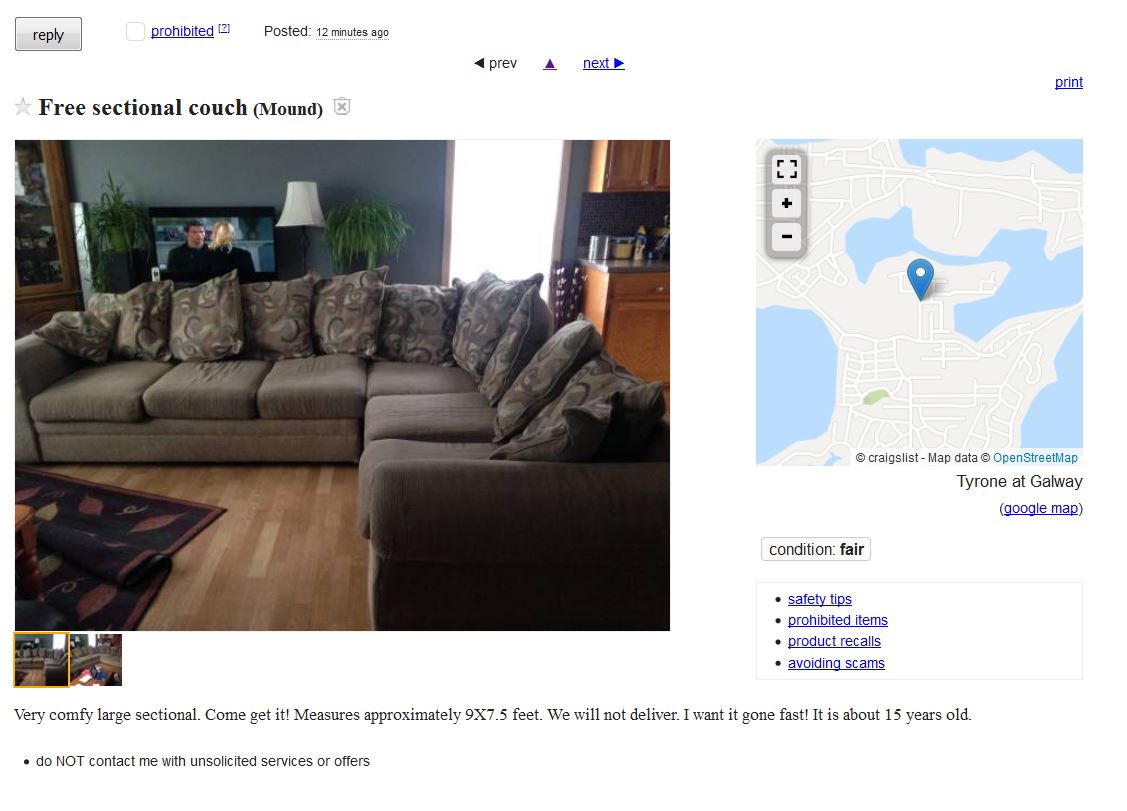 This awesome sectional was being given away for FREE!
Notice the posted time – it was posted just 12 minutes previously and I was the first one to jump on it and call the seller. Luckily, I have a truck that I invested in (and you should too) so it was no problem.
Speed is VITAL when browsing the Free section. People are constantly monitoring the Free section of Craigslist so that when something pops up they can snatch it. You need to be fast too.
[blank_space height='1em']
Here's what I did with the FREE sectional:
1. I saw the ad.
2. I called the person immediately and scheduled a pickup time (within the hour).
3. I immediately SAVED the following from the original ad onto my computer:
The photos
The measurements
The ad description
4. I picked up the sectional and took it home.
Now you might be wondering why I saved the photos, measurements, and ad description that the poster put together?
Well – I'm about to share something extremely valuable and GOLDEN with you. Something that'll make you hundreds of dollars if you put it to action, and save you TONS of time. You ready? (Imagine a Drum Roll)
Here's what I did.
After I went and got the sectional, I kept it in the back of my pickup truck and simply held it in my garage. I didn't even bother taking the sectional out or taking it inside.
Instead, what I did was, I re-posted a fresh, brand new ad for the sectional…
Using the SAME pictures, the SAME measurements (saved me time so I didn't have to get dimensions), and certain elements of the ad description, but I wrote a better description and enhanced the ad. [pullquote align="left"]Don't reinvent the wheel, round is pretty much it! [/pullquote]
To top it all off – I offered FREE delivery.
Now is that a steal or what? Think about it. You've got all these buyers on Craigslist browsing for a couch.
Maybe someone moved into their first apartment? Maybe a family is looking to get something a little bigger? Maybe a college student is looking for something affordable that they could also sleep on?
Point is – with a heavy, bulky item like a couch – it's usually a hassle to have to move/pickup/coordinate getting it in.
By offering FREE delivery, that was the biggest selling point hands down.
Buyer's thoughts: "Awesome sectional! It's only $275. And FREE Delivery so I don't have to pick it up?! This is the one." *dials phone to call*
I ended up selling the couch for $275, 5 days later.
AND.
It was ready to deliver anyway because it was already in my pickup truck. I never even had to take it out of my truck and inside, but only when delivering it to the buyers.
Quickest $275 bucks ever.
Look guys, these FREE deals are everywhere. They're always there and they're constantly posted. There's money to be made for you, right now.
And, as you can see, that Free Delivery is a huge attraction, but I have limits.
For example, I'd drive 20 minutes to make a $200 profit. But I probably wouldn't drive 60 minutes to make a $100 profit.
This is all personal preference and depends on how you roll. Maybe if you're in dire need of that $100 profit (or even smaller profit, let's say $40, but you have to drive 60 minutes), you may be comfortable with that. In the case of a $40 profit for a 2-hour drive (60 minutes each way), you're basically saying "I'm worth $20/hour".
That's not even including gas costs. Not worth my time personally, but all depends. For example, if it was a piece of furniture that just hasn't been selling for months and months and I need it gone, I'd do it.
You need to figure out what works for you and create your OWN set of standards, etc. But it's great to able to offer Free Delivery if you're working off the Free section.
I could take you by the hand, sit down next to you at the computer, go into CL's free section, point my finger at literally three different things and tell you to go pick them up right now.
When you come back and post them up for sale and you'll make cold hard cash right away. Basically right away and that's no joke.
I'm serious when I say right away. There is a healthy market for items you're gonna find in the Free section, but it's not saturated.
Many people who are serious about flipping things stay away; they're too scared to buy things because they don't feel like it will sell, they completely disregard the Free section.
As to that free King size box spring (in great shape) that I'm picking up tomorrow at 11am, which I know for a fact I can sell for at LEAST $100 (and it's not the first time I've sold free box springs or mattresses for several hundred dollars). That's gonna be about 40 minutes of driving and maybe 10 minutes of taking pics and posting up an ad. $100 for 50 minutes of "work."
[blank_space height='1em']
Here are real life examples of what I bought, and what you can buy too.
Box Spring Bucks
That box spring: I've sold them before. I actually needed a king size box spring before, so what did I do? Did I go on Amazon and order one for several hundred bucks? No, I went on CL to just find a clean, cheap and functional box spring to use. I just needed a freaking basic box spring to use. And I needed it right away.
So, if you see a free box spring, ask yourself, does the market need box springs? Of course they do. You want to fulfill the market needs. So, there was a free box spring posted on CL that I drove and picked up. I took it inside, took some nicer photos because the guy actually hadn't posted any pics himself, posted it up for sale, then moved it to my garage. Five days later I sold it for $100.
Guys, that's $100 you made for free basically, I mean it's not for free, obviously you put your time into it, but I drove literally for 40 minutes total, for $100. And this king-size box spring is actually two twins so they are light as hell. You know, one person can lift them. Anyway, there was more.
Just a day later, in this other ad, a guy was moving from his apartment and he had an $1800 king-sized, king-quality mattress. By that I mean Beautyrest world class. Guys this was a serious mattress. It was a king-size mattress with two box springs. This was no joke. This was like a freaking high and luxury mattress that I kind of wish, if I didn't have a nice 12-inch memory foam mattress myself I would totally have this mattress and keep it for myself.
This guy was moving from his apartment and wanted someone to just come take it because he only had a couple days left in his apartment and he'd moved in with his girlfriend and they had duplicate stuff. He didn't even live there anymore, he just wanted it out.
He had posted it 22 minutes previously and I happen to see it and texted him immediately. Fortunately, once again, because I invested in and owned a pickup truck I was able to get it easily.
The guy was eager to get rid of it and asked when I could come pick it up. I told him tonight (speed is critical)! So I go and pick it up in my truck and BAM – acquired!
Folks – I just wanna mention again (and I won't stop mentioning this) – if you don't have a pickup truck (or even an SUV or van, but truck is even better) or if you're still raising money to try and get one, places like Menard's or Home Depot, these places offer truck rentals for super cheap. I used to do it all the time. For example, if I didn't have a truck for a while and I found a deal on a larger, bulkier item I just couldn't turn down, I would just rent a truck from Menard's. It costs usually about $18 bucks for 75 minutes of usage, unlimited gas, and then it's five dollars for every 15 minutes thereafter.
Seriously, if you need to rent a truck, do it. And just add that into your expenses in the Profits and Losses tracking spreadsheet that I've included within your Blueprint. And let me ask you this: would you rather make zero dollars' profit or would you rather make $300 profit, minus 18 bucks for the truck rental? I hope your answer is the same as mine. It's pretty obvious.
Folks, if you don't have a truck, rent a truck. The only thing standing in your way is your delay!
So back to the mattress and box springs.
I drove 25 minutes away to pick them up and they were freaking awesome. The only issue with it was a chocolate milk stain on the mattress that one of the kid's had accidentally spilled during a move, but besides that – it was PERFECT and the seller had always kept an impermeable mattress cover over it when sleeping.
Now – one thing I want to mention is whether or not a chocolate milk stain on a mattress bothers YOU is irrelevant – this isn't about how YOU might feel about it, it's about what the MARKET and BUYERS think, feel, and want. And sure enough – most buyers would feel that it's a minor issue. Throw a cover on it and you are golden! Most people don't care about something minor like that in this scenario on an $1800 mattress and box spring set which they'll be getting for a fraction of the true cost.
So I snagged this and I brought a friend with me and we loaded this up. I asked for and received the photos the seller had used in his ad, we strapped everything down and I drove it home and, just like the previous sectional example, I kept it in the back of my truck, and in my garage. I didn't even take it out of my truck or garage. I kept it in my truck, in my garage, strapped down. I wrote the ad – awesome & detailed ad description, sold the heck out of it, used the same pictures from the first original ad, and posted it for sale.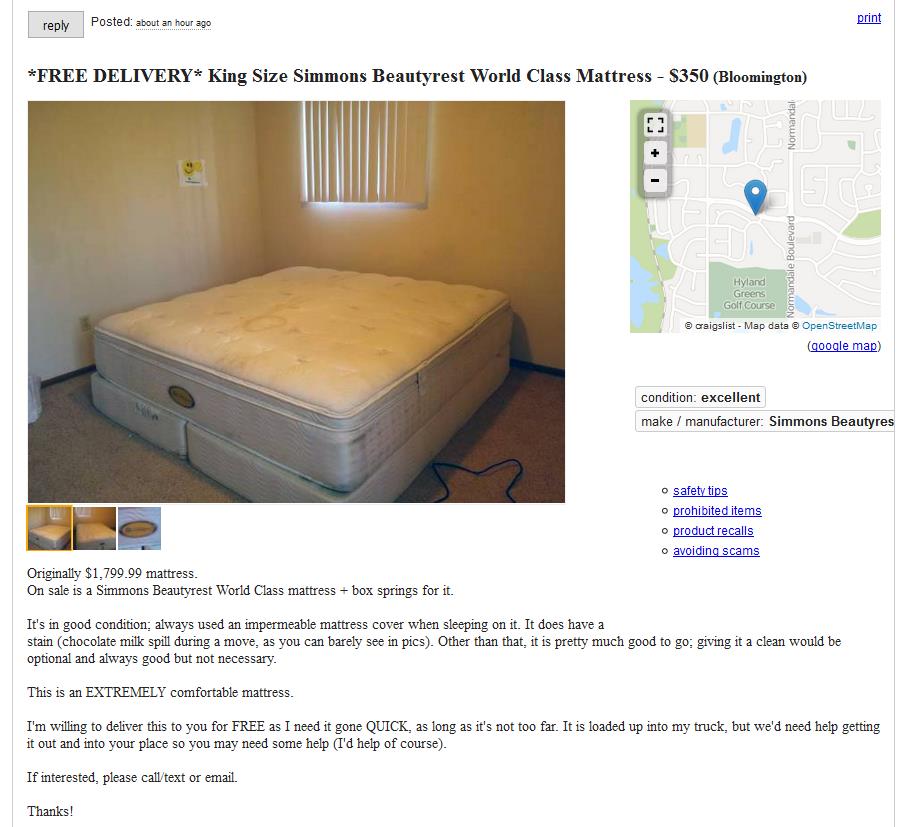 It's ironic because it was the guy who just wanted it gone who told me that it was originally $1800! After I Googled it and realized it was an $1800 mattress and super high quality, I knew there was a huge profit potential here so I had to jump on it. At this point after I had acquired it, I wanted to get rid of it as fast as possible so that I could get back in the grind and use my truck for other deals. I didn't want to be stuck with this mattress in my truck for weeks or months. I needed to flip it ASAP like a straight-up Flipping Ninja©.
So since it was already in my truck, I offered the bonus of FREE DELIVERY to speed up the process, making my ad even more attractive. That encouraged me to jump the price up, I posted it up for $350 because I wanted it gone really fast. I could have posted it up for more – but again – I didn't want it to sit in my truck and stop me from using it until it sold.
Two days later I get a text from a girl with a proposition. She offered $200 cash, AND she would come and pick it up on the spot (versus me having to deliver it). I was totally fine with that and agreed. Twenty-five minutes later she showed up and happily paid me $200 cash for the items and left. We both walked away satisfied.
So there's your other example of really taking advantage of the FREE section of CL and monetizing it! It felt AMAZING making that $200 cash, just like that. You can do the same and I want you to start really browsing the FREE section from now on looking for things you can buy, then resell for profits.
That guy wanting his mattress gone is not rare. People do things over 24 hours, not 9 to 5. They're moving, buying new things, renovating, etc., all the time. And in the Free section things go really fast so you have to be able to jump on it.
This is a business for someone with the right skills and quick reactions; you have to be ready to go! When I say be ready, I mean be ready to go whenever it is convenient for the seller, the sooner the better, be ready with your truck, SUV, or your truck rental.
But what if you're not ready with a truck? If I didn't have a truck and I was in the same scenario, what would I do? I would still JUMP ON THE DEAL AND CALL THE GUY!
What do you think would happen if I said, "oh I just need to go find a truck, would you hold it for me?" By the time I got transport and drove over, it would be all over. That's the wrong approach. The right approach, is commit first, figure out the rest later.
So I say, "can I pick it up tonight?" This works.
If they say yes, say sounds good, I say, I'll be there at 8:45 PM. And then what I would do is immediately drive to Menard's or Home Depot, pick up the rental truck, and drive and pick up the mattress. And then bring it home. Guys, you have to be confident, convicted, and committed. Commit first, figure out the rest later. There's always a way, don't make it too difficult for the seller, don't try and haggle, don't complicate things for the seller, or ask them to hold things for you or make them wait for you.
You'll know when the opportunity comes, but if you're not quick, someone like me is going to come in there and steal that deal from you, because I'm quick. My reactions are quick, my mind starts planning as soon as I see the deal and it all comes together on the phone or in texts with the seller.
That's because I commit first, and figure out the rest later. That must be your new mindset.
Because if you find a deal and you're being difficult or slow with the seller, or asking the them to hold it or asking too many questions, I'm going to come in there with my truck (or even without my truck and use a rental if need be!) and SNAG IT!
Be quick. Straightforward.
"Mr. Seller, is the item still available? I'd like to come pick it up if it's convenient. Whatever works for you."
They text back.
"Yes, still available. Can you come now?"
"Yes I can Mr. Seller. Give me the address please and I will text you with an ETA, as well as when I'm on my way."
Boom. Closed the deal. I will freaking steal that deal from you like a shark, you've got to become a shark yourself. Be fast.
[thrive_custom_box title="Disclaimer:" style="dark" type="color" color="" border=""]I'm only partially joking here with my extreme example of being a shark and stealing deals. There is no such thing as "stealing deals" because ultimately at the end of the day – there's an abundance of deals everywhere and you should never have a "scarcity mindset", but rather an abundance mindset. Deals are like buses. If you miss one, there's always another one right around the corner. The point is, I want to paint a picture for you and really tell you like it is though – and how this game works because I want you to be successful, knowledgeable, and have every advantage and upper hand I can offer you.[/thrive_custom_box]
[blank_space height='3em']
featured image by: ohhmyhead