If you start to love selling, you'll start to think about it all the time. And how can you find the time to flip?
Typically, we all start doing this part-time. We all have regular jobs, families and life stuff, but we still find time to plant ourselves in front of the TV.
Imagine if all those hours actually made you money?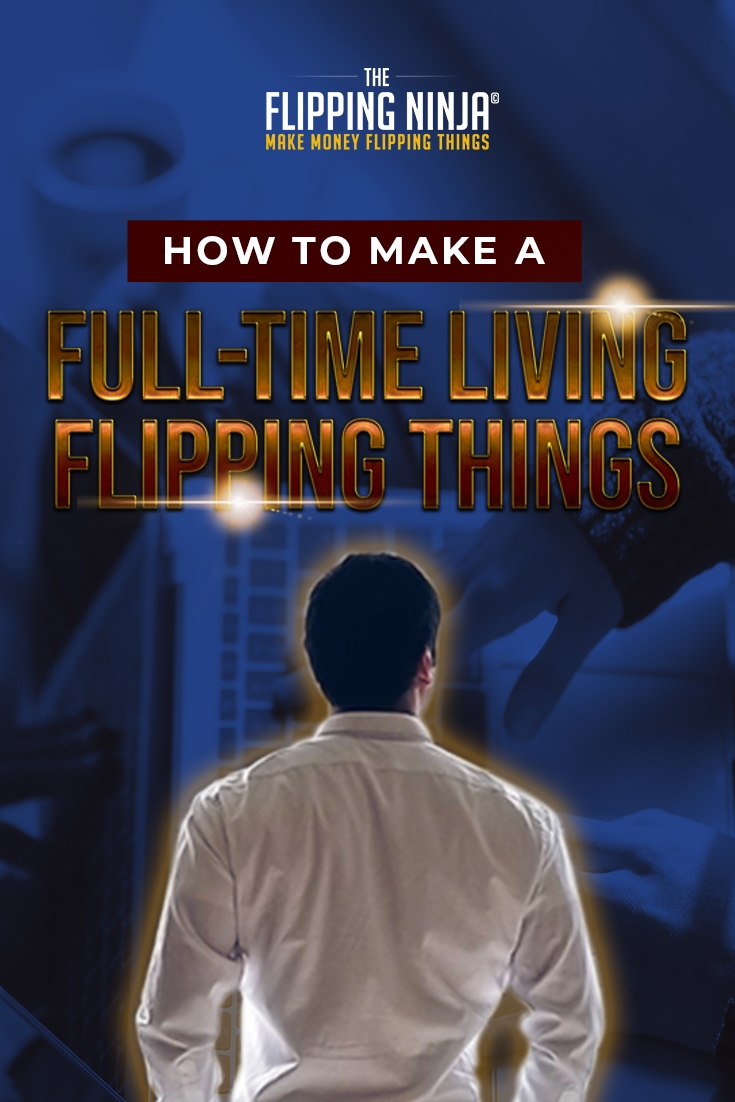 Now, let's imagine that you start – just as a hobby, if you like – with a few hours outside of regular work.
Okay, so in your first month you might only make $50 or even $200. Perhaps your ads aren't fully attracting your buyers yet, but you've made a start and you're going to do better.
Now you've had your first taste, your mind starts playing What If and you experiment, get faster, get smarter on the phone, friendlier in face-to-face meetings and SUDDENLY…! Your hobby is making good money.
You've got weekends, time around work, whenever you can, really. In fact, you're enjoying it so much, maybe you've some family or friends involved?[pullquote align="right"]As a Flipping Ninja© I decide my hours, pay and vacations! [/pullquote]Never hurts to have extra eyes, brains and muscles.
Still, it's not quite a full-time job, but you can see the potential. You can feel it.
Whoa! Before you take the plunge and take on flipping full-time, there are 3 key elements you need to have in place:
1. Discipline.
To successfully transform flipping into a full-time, paying job, you are going to need discipline. Of course, you're still going to have fun, but if you don't treat it like a business, it will remain a hobby. And now YOU'RE THE BOSS!
No one's telling you what to do or when. So you're going to really have to push yourself and kick your own ass basically. No one's gonna yell or say, Well Done!
It's all you now. And that 'you' may have to change.
You're gonna have to wake up early with your mind clear and your body ready and pour everything into it. It's easy if you enjoy it, but you have to develop high energy, stamina and that love of selling to bring this off. Too many people give up quickly or don't try at all, but if you've come to love doing this, channel that love into making it work and doing the work. Remember, this isn't a get-rich-quick scheme, it's a business you're building.
Yes, you're going to have you're off days, you're going to be like oh yeah I don't feel like working today. Look how easy it is, it's just like getting in shape.
It takes so many entrepreneurial traits that you really have to stop and think about this. You're going to have to really develop the entrepreneurial mindset. It all starts in the mind, before it becomes your reality and in your outside world.
2. Master Your Time.
Flipping things part-time when you're starting out is great because it teaches and trains you how to maximize and master your time. You don't have much time for deals, so you have to make the most with what you got, and you'll slowly start to train yourself to get the most out of your time so you'll be making more money and deals in less and less time.
For example, I work a full-time job and yet I was able to make $2,500 a month flipping things at one point. It took some effort to get to that level, but you kind of force yourself to work with what you've got and 'maximize your gains' so to speak. But at the same time – I knew that I was not maxed out. I knew that if I put in more work and time and energy outside of my day job, I could make even more than that.
So, once you learn to master your time and you know what you're worth, you know what kind of money and revenue you can bring in, you know that you're this awesome deal machine and know you are worth a lot, that that's when you can start thinking about what it would be like if you were doing it full-time.
I would not recommend quitting your day job until you have completely mastered your time and basically you've reached your absolute peak of being able to flip things and the only thing that's preventing you from going further and flipping more is the time, and the fact that you have this 40-hour a week, regular job, time commitment and that's the only thing getting in the way.
3. Flipping System.
Whether you call it a routine or a system, you got to have something in place if you're gonna replace your regular job with flipping. People will know if you're too casual and won't trust you for the big deals or repeat business.
Devise a routine. Build a daily rhythm of handling ads, email, deals, meetings, pick-ups an deliveries. Of course, you're at the mercy of the buyer or seller to some extent, but that's what makes each day interesting. As long as you have a clear idea of what you have to do and when at all times, you've got a system. And the first thing that disciplined, business-minded, time master with a system has to do is run some numbers.
For example, say you make $100 a day at your regular job. That's $500 per week for a living wage. If you want to try and hit this goal just by flipping things to replace your normal job, that means you'll have to do enough deals per day or per week that equates to $100 a day. And if you want to make more, you just have to do more. So you have to create a system.
You have to set quotas and create a plan. And it could be like okay, my goal is, if I have to make $100 today, I can either do one deal that gives me a $100 profit, or I can do 5 deals that give me a $20 profit, which also equals $100. So you just keep doing this, keep this pattern up, and then eventually, that's how you run it and keep incrementally expanding it.
The key to increasing your income is doing it in increments.
You'll need a system to really build this full time and leverage and scale it eventually too.
If you're someone who is serious about making money flipping things, as well as wanting a system you can follow — I created The Flipping Ninja Blueprint to get you started FAST (while saving you years of time learning everything).
The Blueprint itself has over 300+ pages in it, as well as over 10+ hours of video and audio content (over 60+ videos) where I personally train you how to make lots of money flipping things for profit on Craigslist, eBay, thrift stores, pawn shops — and so much more.
First, we'll quickly take you through the basics of flipping to make sure you've got a strong foundation.
Then…
We jump straight into the specifics. The details. The juicy "insider secrets" like…
Learn exactly WHAT to buy, WHERE, and for HOW MUCH — to make maximum profits (most people simply don't know what to buy, so they don't make money… I show you EXACTLY what to look for so you can profit immediately)… Page 97
Learn powerful marketing techniques that will train you to demand much higher asking prices than the average Joe… Page 194
Learn how to use the 4 Weapons of Determining Value© on any item in 90 seconds or less, so you can make swift buying decisions (this skill set alone can make you a fortune and is responsible for 90% of your profits — these tools by themselves are worth the cost of the entire program)… Page 133
Develop The Eye for The Deal©: You're so focused, you see deals and their profit almost immediately (learn this powerful "superpower" once and you'll start seeing and attracting big, small, and medium money-making deals anywhere and everywhere you go automatically — with no effort at all, giving you an unfair advantage over other flippers)… Page 9
See how I funded a 4-day Los Angeles weekend trip on just $30 and 3 hours of work… Page 51
300+ page eBook with over 10 hours of audio and video training content will turn you into a lethal, money-making Flipping Ninja© who only gets better (while keeping you motivated and educated)
See how I made $500 in one outing — all captured on video, you'll feel like you were in the passenger seat with me… Module 15, Video 6
Complete proven and effective scripts and infographics you can use immediately to start making money right away (you copy and paste exact responses, emails, and texts so that you don't have to think about what to say or wonder what works for closing the deal)
Discover why I call the flipping business "The Dumb and Lazy Man's Game" because of how easy it is to make money (yet you can make more money in less time than probably 90% of your friends who work "day jobs")… Module 6, Video 3
How to make several thousand dollars on your spare time month after month EVEN if you work a full-time job (it'll be as if you picked up another full-time, 40 hour per week job, except you're only 'working' a few hours per week while having total freedom)… Page 29
Discover all the money-making opportunities around you as a college student (most college kids who learn how to flip end up making more money than their friends who work full-time and part-time jobs except they make it in less than HALF the time)
A tried-and-true marketing template you can use to demand insane, higher prices while selling your items 2x as fast year after year (this is how I sold a $6 chess set from a thrift store for $100 4 days later, resulting in a $94 profit for 20 minutes of "work")… Page 223
Psychological tactics you can use to charge the most money possible for the items you're flipping (often times double, even triple your otherwise "normal" asking price)… Page 168
How I EASILY made $220 in less than 30 minutes on Craigslist and how you can too (you get a video of me on Craigslist showing you exactly what I did and how)… Module 12, Video 8
How "Mr. Snodgrass" made me $100 in 30 minutes (thrift store secrets in the toy aisle)… Page 70
Psychological "ad creation" secrets that'll let you command WAY higher prices, making you more money (when you do this, people will WANT to pay you more!)…

Page 200

How to be UNQUESTIONABLY CERTAIN whether or not you will make money on something just by looking at it (you'll learn EXACTLY what you should be looking at immediately before anything else… so simple that anybody can do it – with ANYTHING!)… Page 215
How I Let $1,500 in Profit Slide Through My Fingers (and how learning from this ONE mistake I made will save YOU from losing thousands… and MAKE you thousands)…

Page 230

What NEVER to do when you see a good deal (this tip alone is amongst my top 3 "flipping secrets" that's made me thousands of dollars in this business and will do the same for you if followed)…

Page 230

The first 4 things you must do immediately after you bring home an item you want to flip…

Page 231

How to boost your "Scam sensitivity" (these tactics will protect you from getting scammed or cheated and you'll know exactly how to recognize them – giving you an armor of protection)…

Page 248

PLUS – Examples of actual scam emails and texts so you can immediately recognize and familiarize yourself with them (and avoid them should they ever try and mess with you)…

Page 250

Negotiating tips that will transform your business and your profits (this is where you can really get creative – and I'll show you how)…

Page 252

8 negotiation tactics you can use to minimize rejection and win any negotiation almost every time…

Page 255

The 8 negotiation tactics when BUYING on Craigslist to always get your price (learn these once and you'll be closing way more deals for the rest of your life)… Page 256
Why you must ALWAYS keep your emotions in check when flipping things (this will determine most of your life and what you will achieve)…

Page 26
I will ingrain in your brain the deeper understanding of flipping things for profit… So you can replicate this for yourself and skyrocket your profits with flipping things. You can even start a legitimate, full-time business with the information from this package.
Visit here now to get immediate access to all material and I'll see you on the other side.