Having a full-time job working at the office and staying there throughout the day sounds good, right? It's stable, pays you good money, and you sure look good on your suit.
But that's not just the point of living life. Working 9-to-5 sucks the life out of you because you're confined in a cubicle staring at your computer all day and doing paperwork while simultaneously keeping an eye out for your boss who's most likely going to instruct you some random task.
Sounds stressful, eh? Well, that's what most corporate lads hate about their job — not to mention that they've got a salary cap and you have to wait for years just to get a minuscule raise.
You don't have to worry about any of those when you're flipping, though.
So if you want to break the chain and want to transition into flipping in the best and safest way possible, then you've found the right place.
Here's how:
Keep your job.
The first thing you need to do is to keep your job. Don't quit just yet. It sounds simple and surprising, but that's the reality. This is the safest way to approach your impending transition.
You don't want to risk everything up, such as your income and financial health. You surely don't want to rush things up even though you still don't know the right way of flipping things.
Keep your job for now because you're going to need it to prepare yourself and have the right funding to take on your flipping career.
Use flipping as a side-hustle.
So you still have your job now, right? The next thing to do is to slowly welcome the life of a flipper. Do this by using flipping as a side hustle. You want to do it on the side, specifically during your spare time. It's time to dip your toes for now and know what it feels like to flip things.
You want to do it bit by bit so you don't get surprised when you're at it full-time. It's just like how you eat an elephant. You eat it bit by bit. The same principle can then be applied to flipping. Gain momentum during this time.
Learn the basics of flipping and know how to choose great deal bargains on Craigslist. You want to start making actual money. It doesn't matter if it's just $10 or even $5. As long as you're earning some profit, then that's a good sign you're on the right track.
No one starts big as everyone starts small. Learn more about discipline and harnessing your energy to prepare yourself for the challenges that might come when you're flipping full-time.
Assess yourself and know your strengths and weaknesses, then turn your weaknesses into strengths. Become a better marketer by learning some entrepreneurial skills.
These are crucial to creating the right ads and getting the right photos that'll appeal to potential buyers. These are the skills you need to develop for you to become successful in flipping.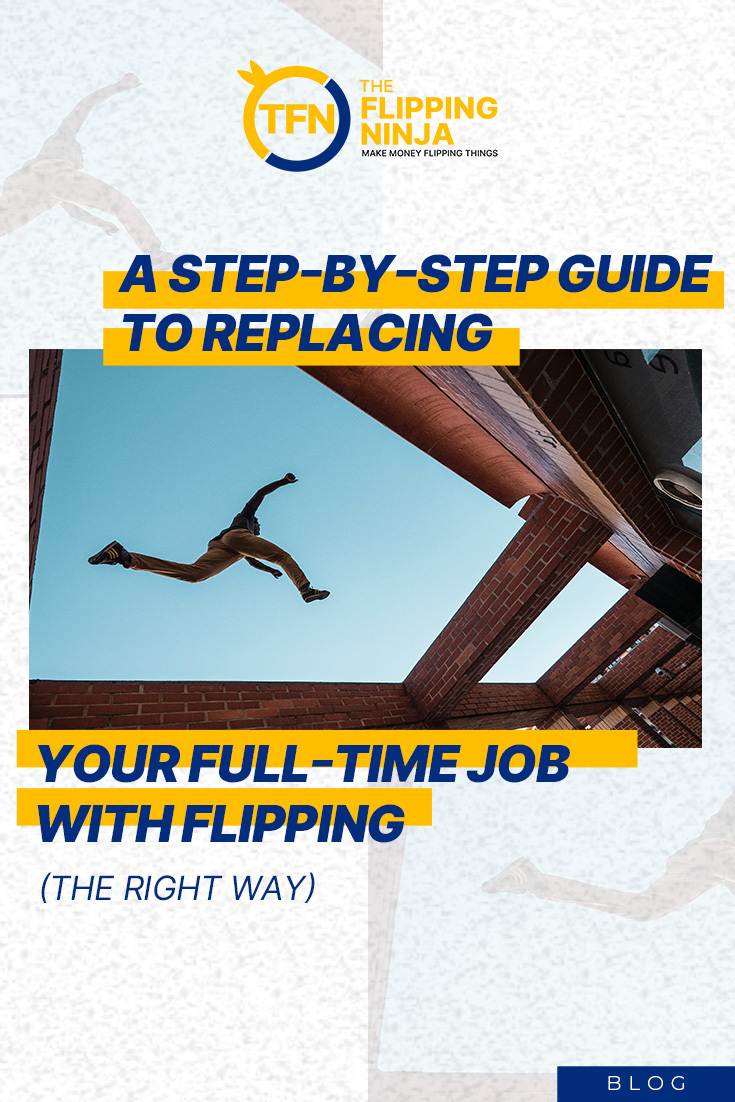 Track your progress.
Tracking your progress is crucial to improving your skills. You'll be lost in your tracks if you don't track. This means knowing your profits, losses, as well as the amount of money you need to continue your flipping venture.
You need an efficient system to ensure that your records are accurate and in-line with your goals. One good way of doing just that is by using a tool, app, or spreadsheet that automatically tracks and calculates how much money you make flipping things. If you're enrolled in The Flipping Ninja Course, then you've already got access to the Success & Profit Tracking App.
This is an included tool that tracks all of the details you need to have an easy, accurate, and efficient way of keeping track of your progress. It shows how much profit you're making so that you can plan out your next move.
The Flipping Ninja Success & Profit Tracking app lets you track all your profits easily and automatically – you just fill in the blanks. You'd normally have to pay someone a few hundred bucks to create this custom, color-coded, complete profit-tracking system. Saves you hours per week, keeps you focused and motivated on your money targets. Just plug in what you bought, the date, its price, how much you sold it for and when, how much time you spent doing it all — and it'll calculate your profits & losses–AND you get to see what you're actually making per hour doing this. Otherwise, if you don't have access to this, you can always just track your profits the old school way by writing them down by hand.
This is necessary for you to know your marketing strategy or if you need to improve on something to make your Craigslist ads more appealing. It's all a matter of transparency and knowing if you're doing good enough for you to go to the next stage.
Improve, improve, improve.
There's always room for improvement. Although no one is perfect, it doesn't mean that we cannot strive for perfection. Yes, we can, and it's through this that we improve and become the best versions of ourselves.
Keep going all out with your flipping and scale-up. If you're dealing with small items now, why not try bigger items such as appliances and furniture. They'll earn you bigger profits as well!
Keep gathering information and make it a habit to learn new things, either in knowing the places and time to get great bargain deals or perhaps how you can make an item more appealing.
Gain more experience. The more experience you have, the better flipper you're going to be. Keep practicing and immerse yourself in the full experience of flipping. It's only a matter of time when you'll become an expert flipper.
Become a master flipper.
Now that you've gone through the initial stages of this transition, which are undeniably the hardest, it's now time to sit back, relax, and feel good about yourself. You now know the advanced tips and tricks on how you're going to get great bargain deals, make them look at their best form, and market-the-heck out of them on your jaw-droppingly appealing Craigslist ad.
This is the time when you're like the mythical King Midas where everything he touches turns to gold.
You're now fully geared up to become a professional flipper because you now know where and when to get the cheapest and best value items, take great photos, and create accurate, detailed, and appealing ads.
So, what to do next?
Finally, quit your job.
Quit your job. It's as simple as that. You no longer have to be afraid during this point because you're already fully confident that you can make it. It doesn't matter if you'll lose your "stable" job, because there's nothing more stable than knowing the ins and outs of effective flipping. And what's even better is that you're your own boss and you can earn as much as you'd want!
What do you think of our flipping advice? Are you willing to try it now or you have some other tips you might want to share with us? If so, feel free to voice them out in the comments section below. We would be more than happy to hear from you!
You might also want to check out The Flipping Ninja Course if you want to improve your flipping skills and make more money out of this highly-profitable side hustle.