Finding ways to earn money can be stressful for many people, especially with the "new normal," where almost everyone struggles to land stable jobs and gigs. Many people lost their jobs and are now looking for alternative ways to make ends meet. 
Whether you decide to work from home using your laptop and mobile phone or you start a small local business, you might still be doubting yourself whether you can pull it off or not. 
If you are still unsure about how to earn while making it worth your time and investment, don't worry and check out these ten new ways to hustle while in quarantine.
Be a freelancer 
If you are looking for work with more autonomy and control of your time, then, being a freelancer might be the job for you.
You can set your unique schedule and rates depending on your output, and you can also choose to be a part-time or full-time freelancer. All you need to do is assess your skills and build a strong profile highlighting your abilities to navigate through the endless job listings.
There are several websites online that offer a platform where you can search for freelance jobs for multiple fields you want to apply for.
Examples of jobs you can freelance for include video editing, content writing, data entry, proofreading, and illustrating. If you are more comfortable with human resources jobs, you can apply as a virtual assistant, a consultant, or even as a marketing manager for a company.
Freelancing is one of the most common ways of earning money while in quarantine because it doesn't require you to interact with people personally, and working with clients can be done online. There are legitimate jobs online if you just know where to look for them.
Be an online entrepreneur
Want to turn your hobbies into income-generating work? Try being an online entrepreneur. Almost anything that you can make and can be sold online. There is a great demand for hand-made and personalized stuff as people begin to give importance to the simple joys life has to offer.
Arts and crafts can bring you income these days. From sewing clothes, or launching your own make-up line, to selling plants, there will be an audience out there for your products. You can easily market your products through social media with the help of promotions and sponsored ads. 
If you want to sell your paintings or crochet projects, then this might be the best path for you. Showcase your collection of rare plants and succulents and attract fellow plant lovers online to purchase from you.
Not only will you enjoy creating crafty projects and taking care of your little garden, but you will also be turning your boredom into something you can earn from by making your products stand out among the crowd. The possibilities are endless if you just let your creativity run wild.
Publish your own book
If you have a creative mind and you like building a world through stories, then you can also publish your own book—no need to worry about the pressure of having deadlines and sticking to a certain topic.
You are your own boss, and you can create interesting characters that will engage your readers. So for those of you who have already been writing for a long time and have enough resources to complete a book, now might be the right time to put that dream into reality.
You can also publish books about self-help and how to cope with quarantine blues. Historical autobiographies are also loved by many bookworms out there.
All you need is sheer motivation to finish your book, and you can publish and monetize it soon enough. The greatest perk about this is you can take breaks whenever you want to and continue writing when you finally get rid of your writer's block.
Try cooking or baking
If your hobby is making pastries or cooking delectable food, then you can also make money from selling the goods you make. You can find a great avenue online to showcase your unique dishes but, if you're looking to expand your small business and attract more customers, you can also go to your local market and sell your goods there. 
This is a great idea since the country is still in quarantine, and people are looking for necessities they can easily access, so you may want to focus on food-related ventures. Everyone seems to be learning how to bake or cook these days, so it would be a great idea to turn your newly learned skills into something you can earn from.
Remember that customer experience and feedback is key. Make sure it's a pleasant experience for them, so they'll leave good reviews and even make another purchase from your store. From there, if your business succeeds, you can start working on logistics and courier services so you can expand and reach a larger audience.
Sell your opinions
Public opinion is never out of demand, especially in quarantine, because companies are looking for suggestions on how to improve their services. Online surveys have greatly increased in popularity by people using the Internet looking to make some extra cash.
Your task is not that hard; all you need to do is voice yourself out or take surveys on paid online platforms, and you can easily earn.
This will be perfect for you if you are an opinionated person with a lot of insights or helpful reviews about products and services. Companies are willing to pay their online participants a few dollars in exchange for their opinions.
This will also include quizzes, surveys, polls, and reviews. It's the least stressful job out there and requires minimal effort, so you don't have to worry about getting sick and tired from stress.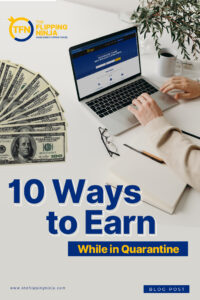 Deliver goods and other essential supplies
If you are looking for a job that doesn't require you to stay sitting in front of your computer all day, then delivering goods can be an option for you. With a lot of people working from home, there is an increase in the need for delivery services all over the country.
Social distancing guidelines will be here for a while, and the demand for groceries and other essential supplies will always be there.
This means that if you are looking for a job that helps you maintain your active lifestyle and requires you to be physically active, then this task might be the best option for you. You can use all means of transportation from bikes to motorcycles, and even roller blades if you want to. Just make sure to wear proper protective gear to ensure your safety on the road.
You can also contact your friends or acquaintances to help them with their businesses with you as their delivery person so you can all be there to support each other's goals. Try signing in to some of the platforms to get connected with customers and pick up their meals from different local restaurants to be delivered at their doorstep. It's an easy way to get paid, and the best part is, it includes tips as well.
Check out Grubhub, InstaCart, UberEats, DoorDash, Postmates, and more.
Babysitting and other child care services
With the quarantine in place, child care services have been shut down indefinitely to ensure the kids' safety. This led to skyrocketing demand for babysitting and child care services all over the country. If you love being around kids, then you will surely have fun with this part-time or full-time job.
Even with their parents working from home, it might still be a struggle to take care of their kids while trying to finish tasks, so babysitters are still needed to pay attention to their child's needs, and this creates a huge market for such services. You don't have to worry about boring tasks because being around fun and playful kids can bring you joy.
You can contact local families or homes if they are hiring babysitters, or you can also find job listings in your local area that are looking for the kind of services you can offer. Be your own boss; just follow quarantine protocols, and earn some extra cash from taking care of kids and supporting your essential local workers.
Be an online tutor
Since schooling has also been postponed due to keeping the quarantine measures in place, almost all students are now learning from home. This means that you can teach all kinds of people, from kids to college-level students.
There are a lot of platforms and agencies online looking for online tutors. You can use your office skills to make presentations and quizzes that will make the online learning experience fun and engaging for your students.
Having an education degree also helps, but if you have the patience that comes naturally to teach young ones or even the older ones, you can still consider being an online tutor. You can get gigs from referrals, or you can contact your friends if they know someone who would want to learn a new subject while on quarantine.
All you need to invest in is a laptop or computer and a stable internet connection. Before your video chat session, make sure you have a steady internet connection and functioning headphones with built-in mic and noise cancellation capacities to avoid technical glitches and to communicate effectively with your online student.
You can also set a specific schedule on what time of the day you want to work so you can still have time for other things you want to do at home.
Host an online workshop
Do you want to share a unique hobby or your knowledge about your expertise? Try hosting an online workshop.
This is different from online tutoring because, unlike tutoring where the student gets to choose what subject they want to learn, in an online workshop, you can literally talk about things that you consider yourself good at. You can offer them downloadable lessons that they need to pay for in order to gain access.
Your credentials and skill level matter here, because you will be marketing yourself and convince them to pay you for your expertise.
You can arrange yoga classes, writing workshops, give motivational talks, or baking workshops. This can be a great way for other people to acquire new skills from a professional, and they can utilize that skill to start their own businesses too. 
Make your workshop classes exclusive by making them private, and people can pay to join the meeting.
You can also make it a one-on-one session and charge depending on your class and level of experience. It is a great way to put your knowledge into good use, and you can even earn more accommodating more people in your workshop and hosting more than one session.
Sell your old items
With stores closed all around the country, many are utilizing their needs from the internet. If you have old junk items you are not using anymore, you might want to try selling them online for half the price as pre-loved items. This can range from clothes to shoes to old cabinets and couches.
You can even arrange a garage sale in your area, just as long as you make sure to observe proper social distancing rules and precautions.
But, if you want your transactions to be hassle-free, you can always opt for just online auctions, and you can just ship your item to the seller—no need to meet them in person if you're worried about your health and safety.
There's plenty of options where you can make money from– your trash could be someone else's treasure. You can post your items for sale on Facebook, eBay, and other websites and apps online.
This is also a great way to declutter your house while generating an income for yourself. You can put a price tag on almost anything you have, even from pet and office supplies to toys and games, electronics, apparel, and even cars. And talking about selling old items…
[Bonus]
Buy Used Items and Sell Them Online (a.k.a. Flipping)
Instead of just selling your old items, why not take it a step further? If you can sell your old items then buying other people's old items for cheap and selling them online at a bigger profit won't be too much of a stretch.
Flipping can be a lucrative strategy to earn money—even if you're doing it part-time. You can earn anywhere from $400 to $800 a day flipping things for profit. So you can clearly see how flipping is a superior side-hustle or even full-time gig you can get into right now. There are plenty of websites out there that deal with used items. For online sales and auctions, you might want to post them on Amazon, eBay, or Bonanza. Or if you want it more local I recommend Craigslist, Facebook MarketPlace, and Letgo. And of course, there are plenty of others.
This can be a great side hustle because the market will do the job for you. The process is simple and personally, it has earned me enough money to pay my rent, come up with down payment money for my first house, and buy a BMW, amongst loads of other cool things. Of course, there are risks, but what type of trade has none? 
All you need when flipping is a smartphone, a computer, and space to put all your things. The rest are simple photography and research/writing skills, and the desires of the market.
I've actually made a course about the in's and out's of flipping. If you're interested in earning a hefty sum every week, then you might want to check it out.