032: 4 Secret Steps To Making $400 to $800 A Day Flipping Things In Your Spare Time (Part 2 of 3)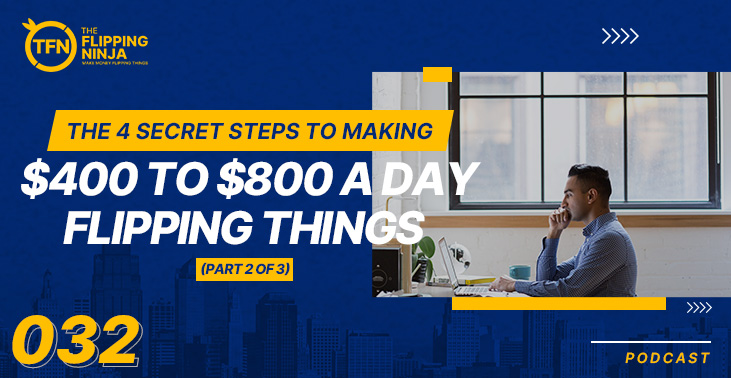 There are 4 secret steps to earning $400 to $800 a day flipping random things on Craigslist, eBay, thrift stores, Facebook MarketPlace, Flea Markets, Pawn Shops, Garage Sales, and more.
Wanna know what they are? This 3-part podcast series covers it.
Say goodbye to money struggles and living paycheck to paycheck and learn how anyone — no matter what your experience level is or how busy you are — can start buying and reselling things as a profitable side hustle and make more money in an hour than most people make in a week of working a full-time 9 to 5 job. 
Listen closely, take notes, then take action.
This is part 2 of 3.
The Flipping Ninja
Host: A.J. Hakimi
What You Need to Know [Episode Summary]:
In this mini-series A.J. Hakimi helps you say goodbye to living paycheck to paycheck and any money struggles you may have. In today's episode, A.J. shares how you can make money flipping things in your spare time. Flipping can allow you to take control over your income and life! This mini-series will prove how anyone- no matter experience or time available, can start buying and reselling things for a profit. Are you ready to make more money from a side hustle than you would possibly make in an hour at a 9 to 5 job? Listen in to part 2 of how to make hundreds a day flipping things!
4 Value Bombs:
Discover how to take photos that emotionally stun, engage, captivate, and compel your buyer into wanting your product!


Learn how to take the right kind of photos. Take photos of your product that sell and truly capture the attention of the buyer.


The difference between making $50 on something or $500 is in the words you write in your ad. Master your description and watch your profits skyrocket!


Know your targets. Where do you want to buy and sell things, what do you want to buy, and how do you buy or acquire things.
Quotes:
"The 'Power of the Pen' is learning how to write ads that sell like crazy. The words you use to write ads, to sell something — that's EVERYTHING. That's the difference between night and day. That's the difference between life and death. You have to know how to write ads that sell."
"If you can create an ad; if you can assemble the right words, that's the difference between making $50 on an item that you buy then sell… and making $500 on an item that you buy then sell…"
On This Week's Episode You'll Discover:
Intro [0:01]
Start of the Podcast [1:15]
What is Flipping? [1:45]
Recap of Part One [2:24]
Where to Start [2:54]
Know Your Targets [4:40]
Power of the Pen [8:49]
What A.J. Loves to Flip [12:44]
Money Shot Technique [14:43]
Achieving Freedom [20:14]
Reason Behind the Podcast [22:15]
Closing Thoughts [25:46]
Outro [26:11]
What to Do Next:
Do you love flipping and want to learn more money-making and marketing secrets? Are you ready to earn 1K on the side? Here's what to do next to make that happen!
SOME GOOD CONTENT TO BINGE: I recommend you binge read (and listen to) everything you can on my website (the one you're on now). It is 100% FREE and will train you enough to be able to go make money right away – even if you're a beginner.
If you enjoyed today's show, please share with those closest to you!
Please leave an honest review and rating for the podcast on your favorite streaming service.
Subscribe to get automatic updates every time a new episode goes live!
Want me to answer your questions about flipping, side hustles, marketing, entrepreneurship, personal development, motivation, mindset, lifestyle — or anything else?
Send your questions in to AJ@TheFlippingNinja.com
You could have your question featured on a future show!
Relevant Links:
Find the Next Episode HERE!  Episode 033 is part 2 of the mini-series!
Subscribe
Android | Stitcher | Spotify | Tune In | SoundCloud | RSS